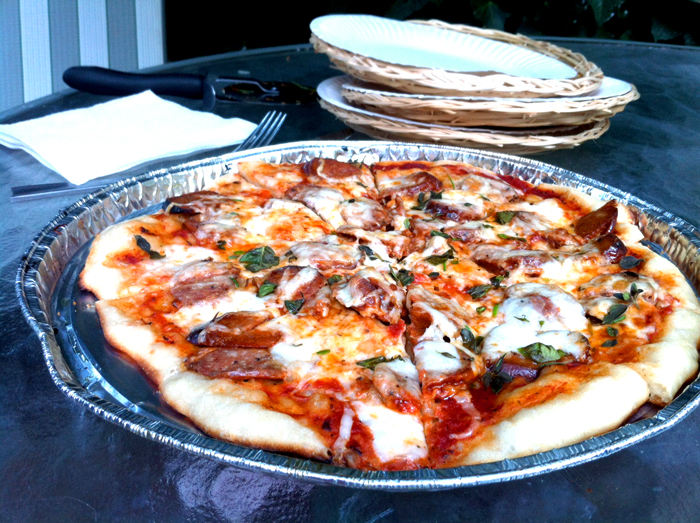 Summer entertaining shouldn't be about spending hours in the kitchen tossing together elaborate meals when guests come over to play. Nope. Dinner should be effortless, preferably served on paper plates, and cooked on the grill creating hardly any cleanup. When kids are involved, finding a dish that keeps both adults and tots happy can be challenging, but not with this seriously easy dish.
Grilled pizza.
Sure, you can cornmeal your crust and slide your tasty pie directly on the grill, but I erased the worry that yours won't with my cheap pizza-grilling secret – pizza pie tins from the grocery store, making this my no-fail way to make summer entertaining fun and easy. And you know how much I love pizza (here, here, and here…).
Make things even easier by using a store purchased pizza crust and you are good to go. This is so fun for the kiddies as well as the adults. Each child can create their own pie, and the adults can create gourmet pizzas to kick things up a notch.
So crank the grill and get cooking!
Directions
Heat your grill to medium high heat. You want things to be hot, but not too hot. I've got a gas grill, but you can also make your pizza over coals.
Lightly grease one of the aluminum pie pans. I picked up a set of three for about $2 at the grocery store and can usually gets two uses from each before it starts falling apart.
Press the pizza dough into a round on the greased pan into an even crust. You can make your own pizza dough or use store bought, either works just fine. You want the dough nice and thin, otherwise it won't grill evenly.
Top your pie with whatever you like and then pop directly on the grill – aluminum pan and all!
Cover and let sizzle for 10 to 15-minutes, or until you see the edges just starting to brown and the top to bubble.
Serve with a big salad and you've got dinner!
Dying to toss that dough directly onto the grill? Try this suggestion from my friend.
Happy grilling!