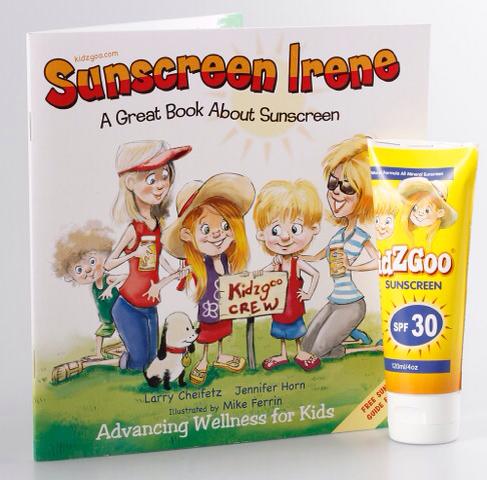 Remember when I introduced you to Suntan Stan? Well my talented friend is at it again with a new book and a sunscreen line that's made to educate and protect all of your loved ones. The fun book shares how Irene's favorite part of the day is playing outdoors, but has learned to cover herself from head-to-toe with sunscreen before heading outside — even on cloudy days. Because sunburn is no fun!
Sunscreen Irene is a fun read, sharing how wearing sunblock is an important part of any kid's day. But here's the deal — they need your help to make it a reality, so head over to their Kickstarter campaign and make a donation. I just pledged $25 and hope you'll consider contributing at the cause too. And part of the deal includes donating 10,000 books to kindergarten students free of cost to raise awareness of the importance of sunscreen use at the elementary school level so your contribution means a lot more then you know! Click on the video below to learn more: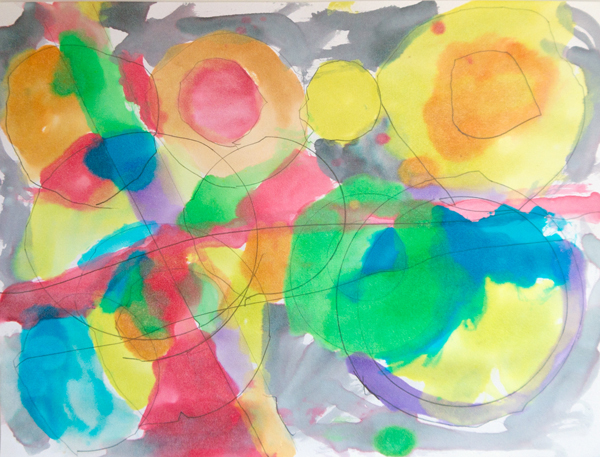 It's been raining for days, and today we all got a bit stir crazy. While the husband busied himself cleaning the garage, the tot and I sat down with an art book she had pulled off the shelf and looked at the colorful pages. When we found Robert Delaunay's page, she couldn't stop talking about all those shapes — and the colors! I asked if she'd be interested in making her own circle-filled artwork and she was so excited she started pulling out all the art supplies.
The artwork in question that caught my daughter's attention was Hommage à Blériot, 1914, filled with repeated circles interrupted with diagonal and vertical lines. The painting is Delaunay's abstract interpretation of the first flight across the English Channel by Louis Blériot and is playful and vibrant.
After my tot gave me her input on the painting, she was ready to get started.
I gathered several circular-shaped items, along with a sheet of paper and a pencil, for my tot to position and trace around for creating the outline for the creation. I helped with first two and then allowed her to continue to work on her own.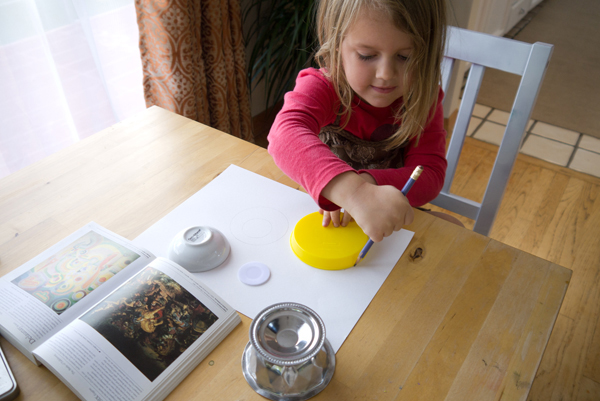 Next I offered a ruler for creating the long vertical and horizontal lines. She did a great job using the ruler to focus on drawing lines. If you've got an older tot, this is a great opportunity to discuss overlapping shapes and how to divide them with the lines to create an abstract design, just like Delaunay.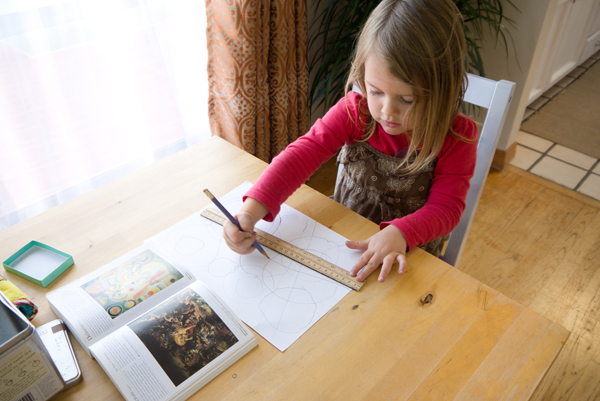 Next I offered my daughter a set of watercolors and encouraged her to paint within the lines — and fill the entire paper with color, just like the painting. I offered a bit of assistance, and lots of motivation, and she continued working until the creation was finished.
As soon as I removed the painting, she found another sheet of paper and started drawing circles for another creation…
This is a great art activity for encouraging fine motor skills and concentration, as well as introducing color theory and composition. Younger kids can explore the challenge of tracing around the circular objects while older ones can focus on creating an abstract artwork using circles and lines while balancing the color within the painting.
My tot is almost four and she spent just about an hour focused and entertained with the project.
It was awesome.