Yes, that's right. We just took our tot trick-or-treating for the first time. She's three, almost four, and we haven't attempted the whole trick-or-treating-Halloween-pumpkin-carving thing at all. She had a bit more interest in the pumpkins at the grocery store this year, and had learned more about Halloween while at preschool, but had no desire to wear a costume at all.
Taking a toddler out for her first night of treat gathering is also a unique thing. My child was totally clueless. We attempted to prep her before the adventure, stressing to say, "trick or treat" when accepting goodies and offering a "thank you" once the candy was in hand.
Yeah. That didn't happen.
Amazingly, after getting a bit of face paint, our tot jumped right into her Halloween outfit and was ready to head out. Our town turns main street into a trick-or-treater's paradise and shop owners offer candies to tots as they walk by. It's perfect for little kids and the street was packed. We walked up to the first spot to stop and my child seriously freaked. She hid behind me, wouldn't move, didn't talk, and literally tried to crawl me. I pulled her aside and we took a moment.
I got down to her level and asked her about what was going on. She didn't seem to like all the attention being on her when walking up to a person with candy so I offered to say trick or treat with her. We cautiously walked up to the next spot and she hid again.
So, at this point, I pulled her aside again and talked it through again. The thing about little tots is that sometimes it just takes a bit more coaxing to open up. And, hey, I said if she wasn't up for it, we could head back home.
Nope, she wanted to try again, which we did. This time she didn't hide behind me, I held her basket for her, and she slowly walked forward for a treat.
Then she was hooked.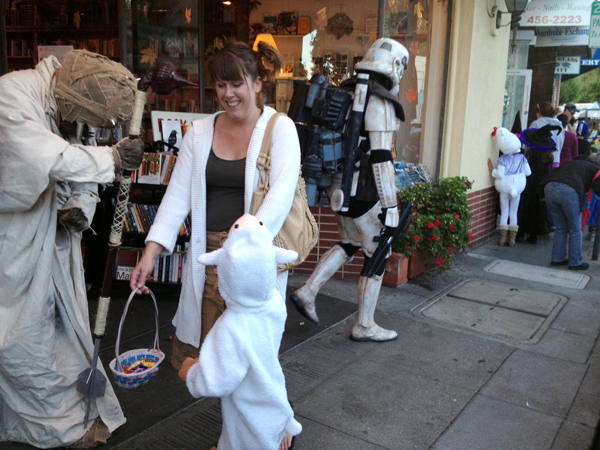 As we continued down the street she started speaking for herself and began offering a quiet "tanks" after receiving a treat. And as she became more comfortable I reminded her that taking a treat before being acknowledged wasn't polite, not to grab, and that saying thank you was a must. While we walked through town, I loved seeing her opening up, feeling more comfortable, and understanding the give-and-take of the whole thing.
After making our way up and back I was exhausted, our tot had a glazed look in her eye, and we were all ready to go home and enjoy a few treats.
If you're heading out for a night of trick-or-treating fun with your tot for the first time it's a good idea to prep your child before the adventure so she has a basic idea of what's going to happen. Reading a Halloween trick-or-treating book helps, as well as explaining that talking to strangers in this situation is okay. Along with begin lots of fun, trick-or-treating is actually a great way to encourage your child's language and communication skills, and get a handle taking turns.
Understand that your tot may not be into it and don't force it. We really wanted to have a great time trick-or-treating with our daughter, but we exchanged "that look" the second time she started freaking out, understanding that we might have to grab her and go if her behavior didn't change. The last thing you want is for your tot to have unhappy memories about Halloween adventures.
Set limits before hand on how much candy your child gets to eat after trick-or-treating. Our tot wanted to sit down on the sidewalk and eat her candies the minute after they landed in her basket, but we reminded her we were going to keep walking, enjoying our Halloween adventure, and at home we'd have two of her trick or treat candies.
And, amazingly, we did.
Happy Halloween!