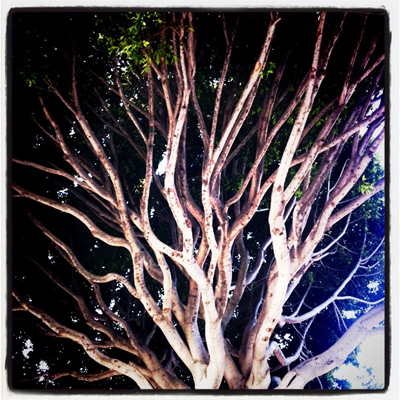 His hand was back on her neck and she felt her heart skip a couple beats. She was starting to freak out and the baby was fussing. She snuck a quick peek at him out of the corner of her eye. He didn't look like a crazy person or a serial killer or anything, but she knew you couldn't judge a book by its cover.
That's what her 8th grade English teacher always said.
She noticed a tattoo on the underside of his arm tucked up tight under the sleeve of his t-shirt. She remembered getting her small tattoo in high school and the biting pain it caused. It was like a whole bunch of bees stinging at the same time. While she was getting it, the guy told her she picked a good spot.
If you get one in a delicate place it hurts a hell.
Well she sure remembered getting pinched by her husband in that area under her arm one night when she wasn't saying the right thing at some party. He had put his arm around her and tucked in his hand right there. She had kinda liked how it felt and then he squeezed so tightly it left a small purple mark for almost a month.
Almost like this guy's tattoo. A small round circle with a design in the center. Like a brand mark she saw on the bottom of fancy food packages.
"I see your tattoo," she said.
"Oh."
"Yeah. It's been awhile."
"Awhile since what?" she mumbled. She wasn't sure why she had started talking to him. The truck was bouncing so much she wasn't sure how to fix herself to the seat.
"Awhile since anyone else has seen it," he said while staring straight ahead.
*Yeah, yeah, no one wants to jump into a story that's already started, but hopefully this was enough to get you interested in reading more…
So, here, here, here, and here.
There. Now you're all caught up.
This was a writing prompt from my friends over at Write on Edge: This week, we'd like you to write a piece in which a tattoo figures prominently.
How'd I do?