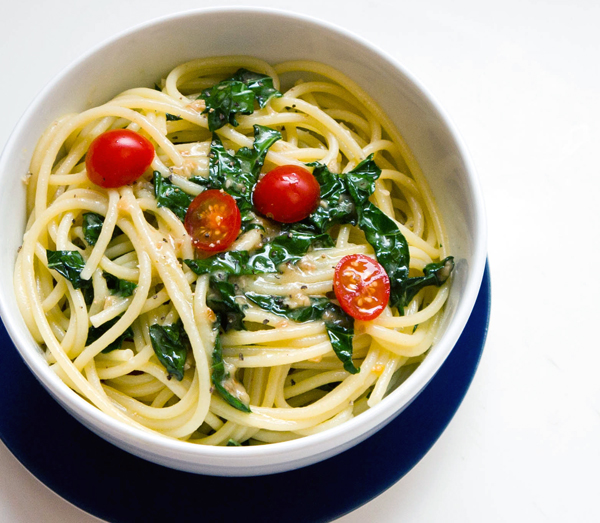 Some nights we feed the tot and then I make second dinner for us. We cozy up after she's snoozing for a light dinner and maybe a glass of wine (or two) and chat about our days. And who doesn't love a bowl of noodles? It's wonderfully comforting and seriously quick and easy.
Garlic anchovy pasta.
Don't be afraid, the anchovy adds a really rich and salty flavor, and isn't fishy at all. Browning the garlic in butter creates a beautiful flavor that pairs well with the kale and cherry tomatoes. Or add some browned Italian sausage, slivers of fresh prosciutto, fresh spinach, black olives…. You get the idea. And this pasta dish for two is ready to eat in less than 15-minutes.
Ingredients
1 tablespoon butter
3 cloves garlic
1/4 teaspoon anchovy paste
1 teaspoon flour
1/4 cup hot pasta water
1/2 cup chopped kale
1/4 cup halved cherry tomatoes
8 ounces cooked spaghetti
Dash of pepper
Directions
Bring a pot of water to a boil and add the spaghetti. Let simmer away while making the quick sauce
Place the butter in a small sauté pan and warm over medium heat. Chop the garlic and add to the butter. Keep an eye on that garlic while you devein the kale and give it a chop.
Once the garlic starts to brown, add the anchovy paste and flour, giving the ingredients a stir. Once the flour has incorporated, add the hot pasta water and the kale. Let the sauce simmer until the kale has cooked through, which takes just a few minutes. Add more pasta water as needed
Drain the cooked pasta and toss with the sauce. Add the halved cherry tomatoes, sprinkle with pepper, and dinner is served.
4 Responses
Not a fan of kale or anchovies. I am going to try this but I am going to sub in small peeled shrimp and spinach.

Love kale, anchioves, garlic and toms, can't wait to try this one!

Sounds delicious…recently I am a big fan of kale 🙂 yum

I love all the ingredients and will have it for an evening meal with some wine, can't wait..