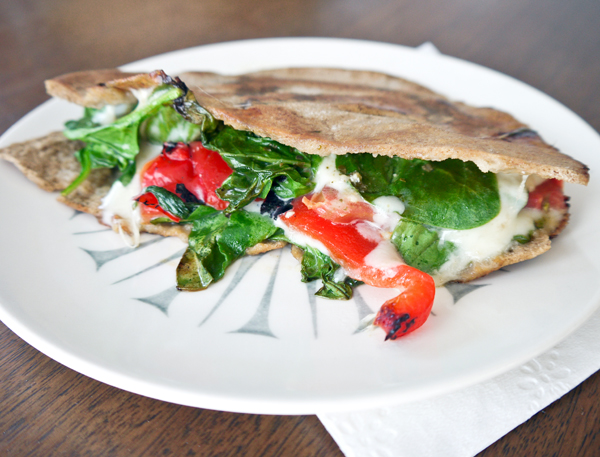 I saw this silly video the other day of a cute dog and his owner doing yoga together —  and he's speaking in Italian.
Yes. It is adorable.
It totally motivated me to do some yoga, and maybe learn Italian, too. I decided to make a healthy lunch date that hits the spot, doesn't add on the pounds, and is a bit Italian. Filled with fiber-rich spinach, ripe tomato, roasted red pepper, peppery pesto, and fresh mozzarella, this sandwich tricks you into thinking you are eating something seriously indulgent when you're actually noshing really good and healthy eats. And it only takes a few minutes to toast up.
Ingredients
Half a whole-wheat pita (65 calories)
1 teaspoon pesto (27 calories)
1/2 cup fresh spinach (3 calories)
2 slices tomato (6 calories)
1/4 a roasted red pepper (4 calories)
1/4 cup fresh mozzarella (140 calories)
Drizzle vegetable oil (10 calories)
(255 calories! I'm not a dietitian, just estimating calorie count based on these numbers)
Directions
Carefully cut around the outside edge of the halved pita and then coat both sides with the pesto. You can leave a bit of the pita connected, which makes flipping easier while toasting, or cut the fuss and remove the top.
Now layer on the ingredients, starting with the spinach, topping with the cheese, and then the tomato and red pepper. Keeping the cheese close to the edges helps melt the sandwich together. Make it even more Italian with the addition of a few fresh basil leaves or a sliced marinated artichoke. Fold the pita together and gently press.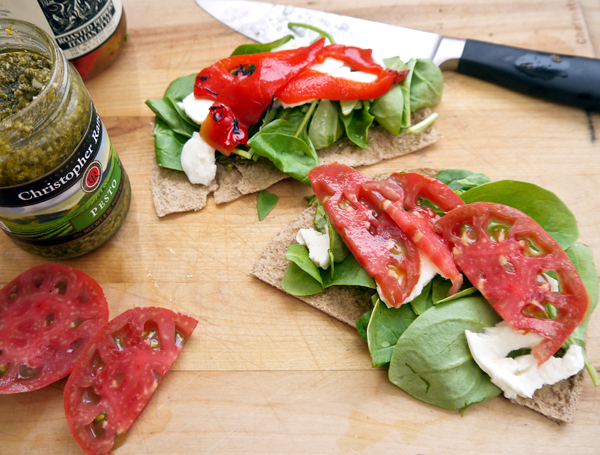 Drizzle a bit of vegetable oil in the bottom of your pan and then add the stuffed pita. Heat over medium heat for three to four minutes per side and then serve the delicious and healthy Italian melty.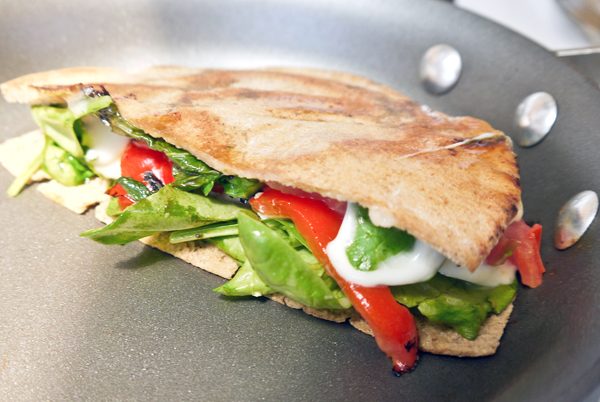 You'll probably need a fork.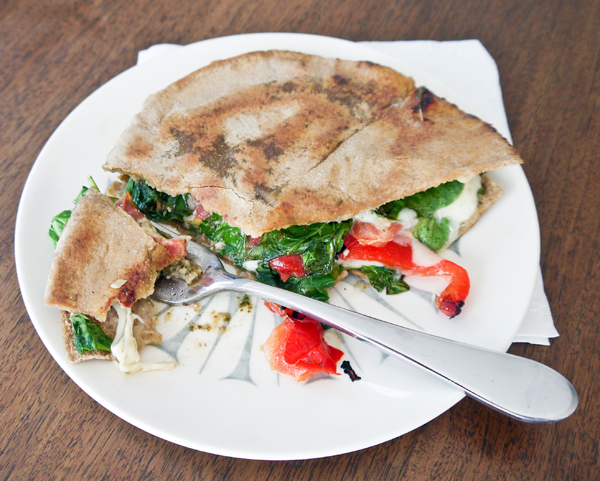 Yum.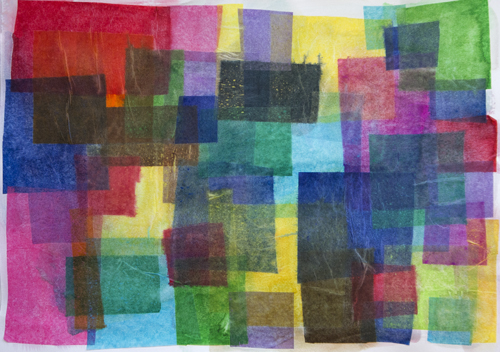 Hans Hofmann loved bright and exciting rectangles and squares and transformed them into vibrant compositions. Many of his paintings include repeated shapes in their own spaces, but sometime they overlapped and blended into each other.
But who the heck is Hans Hofmann? Along with being a celebrated American artist, he was a big player in the world of Abstract Expressionism. And he was also a teacher to many students, furthering the exploration and development of art in the mid 1900's. His loose brush strokes contrasted with sharp edges and forms creating somewhat simple and even childish paintings that are so interesting.
Perfect for kids as inspiration for making art!
Take a closer look at examples of Hans Hofmann's art and notice how he wasn't always an abstract painter. He began his career creating realistic paintings and eventually evolved into his shape paintings, which made him quite famous. Invite your child to name the colors she sees in Hofmann's paintings as well as the shapes. This is an excellent opportunity to hone color and shape recognition!
Some of Hofmann's paintings showcase shapes shining on their own while others show shapes overlapping, or placed on top of each other, cutting the forms or blending them together. This created texture and movement within his paintings.
Offer your child a collection of colors of tissue paper and a scissors. If your child is a bit young to yield scissors, you can help by doing this step. But, if you've got a scissors-happy kiddo, she can cut lots and lots of squares and rectangles from various colors of tissue. Cutting is great exercise for all those itty-bitty hand muscles in your child's hands, which benefits handwriting skills and hand-eye coordination.
Next create a glue and water wash by inviting your child to squeeze about 1 tablespoon of glue into a small container and then adding about the same amount of water.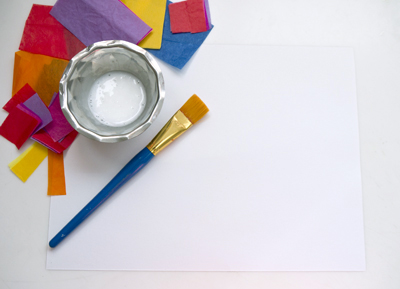 Now your child can begin layering on the tissue paper squares and rectangles, securing them to the paper with the water-downed glue. While creating, the tissue paper will blend together, creating a textured look, just like in Hofmann's paintings!
Encourage your child to continue working and overlapping the tissue until her whole paper is covered.
Once the artwork is dry, pop it on the fridge for the whole family to enjoy!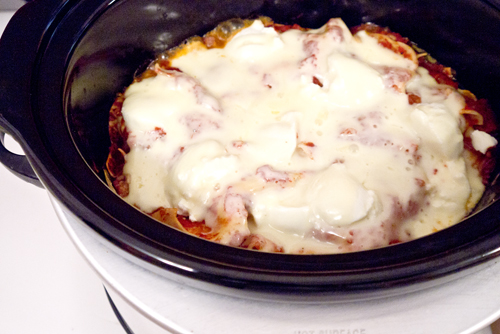 While hanging out on Pinterest the other day, I got a bit of inspiration. Everyone seems to be using their crock pots to make these amazing things – even lasagna.
Yeah, lasagna.
So I had to try it. I love lasagna and make it often. I like to mix up the ingredients to keep it fun, like using cubed and roasted chicken with a cream sauce or ground turkey with thin strips of butternut squash. I figured for my crock pot lasagna experiment I'd keep things pretty basic – you know, the good stuff. Italian sausage, a big jar of sauce, and lots and lots of cheese.
This is really easy, and you can't mess it up.
Really.
All you need is a box of no-need-to-boil lasagna noodles, a large jar of your favorite pasta sauce, about 1/2 lbs of italian sausage browned, and 2 cups shredded mozzarella cheese. Go ahead and gather whatever else you like in your lasagna. I always toss in some fresh spinach – and I happened to have some of my fresh homemade ricotta in the fridge.
Now get your crock pot cranking on high heat and coat the bottom with a good layer of sauce. I added about 1/4 cup of water to the crock pot, too. This way the bottom of your lasagna won't get burnt. Cover that sauce with a few of your lasagna noodles. You can break them up to fit in the crock pot.
Sprinkle on a bit of the sausage, and any other ingredients you like, such as chopped mushrooms, olives, spinach, along with a sprinkling of shredded mozzarella. Pour on a bit more sauce and then repeat. Yup, that's right. Repeat and then repeat, and repeat again. Leave about 1/2 cup of that shredded mozzarella for later.
It's that simple.
I kept layering until my sauce and sausage were gone and then called it quits. I gave the top a final coating of sauce, along with 1/2 cup of water, and then put the lid on the crock pot and left it to do its thing for about 4 hours.
About a half hour before eating, I dotted the top of the lasagna with 1/2 cup of my fresh ricotta and that leftover 1/2 cup of shredded mozzarella. I put the lid on tight and within minutes, my crock pot lasagna was ready to serve.
And it was good.