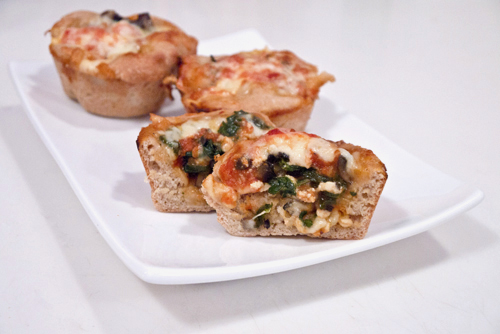 I love pizza. It doesn't matter if it's deep dish, thin crust, expensive, frozen, or from the place on the corner, I love it. There's nothing like the crisp, crunch, and chew of the crust and then the flavor burst of the sauce and then the finishing goo of the cheese.
Perfect.
The other day I wanted to make pizza, but also wanted leftovers for the tot's lunch the next day. So, what to do?
Mini deep dish pizzas!
Whether you brave making your dough on your own or go the quick and easy way with store bought, this recipe is versatile to fit your friend's and family's favorite toppings. All you need is a muffin tin, a few ingredients, and you're good to go.
If you want to make your own crust, it's really easier than you think – it just needs a bit of time.
Ingredients for the dough
1 package of yeast
1 cup warm water (about 100F)
2 tablespoons oil (any kind is fine)
1/4 teaspoon sugar
Big dash of salt
2+ cups flour (you can even use whole wheat!)
Dough making
Place the yeast in a medium sized mixing bowl along with the sugar and then cover gently with the warm water. Let things hang out until things get a bit frothy, which takes about 5-minutes or so.
Now you can mix in the salt and flour. So, yeah, you could really healthy-up this dough by using whole wheat – or going half and half. The day I put my mini deep dish pizzas together I used 1 cup white flour and 1 cup whole wheat and they were totally YUM.
Once the dough starts coming together, dump it out onto onto a flour dusted work surface and knead for a couple of minutes, adding additional flour as needed so things don't stick like crazy to your hands.
Place the dough back in the bowl and cover with a clean towel. Put the dough in a quiet corner and let it hang out for about an hour or so.
The fillings and assembly….
Get out the muffin tin and lightly grease with a bit of oil. Now pinch off small golf ball sized bits of dough and gently roll with a rolling pin or press flat with your hand. Pop the round into a muffin tin and keep going until all the tins have a round of pizza dough. You should have enough dough to make 9-12 mini pizzas.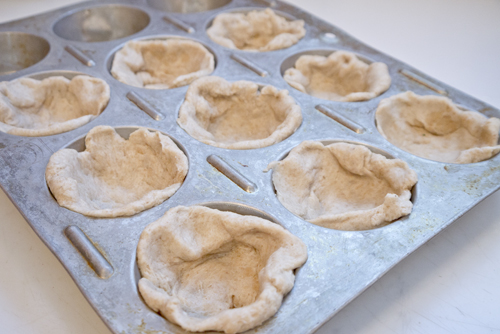 Preheat your oven to 425F and let the muffin tin rest while getting together your ingredients. This would be an awesome kid's party or family night or game night or any night activity! Each kid can pick a tin and create his or her own perfect mini deep dish pizza, starting with a spoonful of pizza sauce.
Now fill the tins with pizza toppings such as chopped mushrooms, chopped pepperoni, crumbled pre-cooked sausage, spinach, olives…. Whatever you want! We even scooped in some homemade ricotta and then another dollop of pizza sauce.
Top each mini deep dish pizza with some shredded mozzarella and place in the oven for about 10 minutes or until the tops are bubbling and golden brown. The pizzas might ooze a bit while baking, so placing the muffin tin on a sheet tray will save your oven for any needed post-pizza cleaning.
Let your pizzas rest for a couple of minutes before attacking them with a butter knife to help ease each out of it's tin. Enjoy alongside a big salad or eat them all in one sitting!