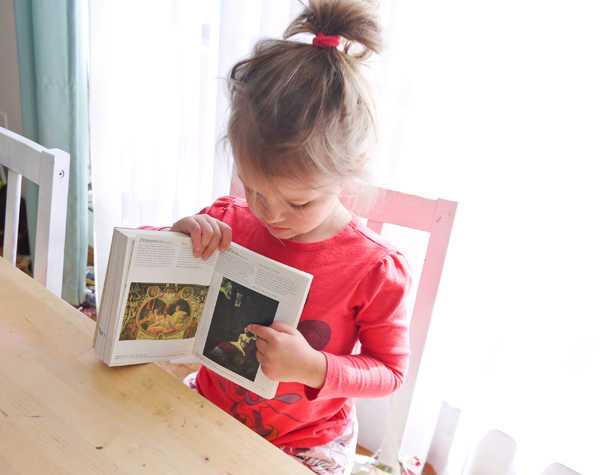 Creating art with your child should be a fun experience even if you're not arty yourself. Keeping in mind that your child is making marks simply for the pure pleasure of it, and not worrying about the result, is an important part of sharing the experience with your tot. And understanding that things are going to get seriously messy is essential too. Along with remembering not to admonish kids for getting smeared while exploring art (which can result in concerns about getting dirty later in life), knowing how to talk with your kids about art is a great way to encourage creativity and the exploration of talents.
And you don't need to know anything about art to pull off a creative conversation. Here's what to keep in mind:
Keep it simple: Yeah, that's right. Keep is seriously simple. Start by looking through art books with your child. You can find ones geared for kids or pick up big and colorful art books from the library to explore. You might be surprised at what your child is interested in. No need to start discussions about color theory or historical details, simply sit with your child and look at the art and let the conversation flow.
Ask basic questions: Initiate some discussion when your child finds an image she's interested in, which also boosts basic skills. Does she see any shapes in the artwork? What colors did the artist use? What is the artwork depicting? What do you see? How does the artwork make you feel? This way your child relates to the artwork and feels comfortable looking at it from her perspective without being lead by an adult to think or see in a certain way.
Introduce beginning concepts: Now is not the time to discuss whether the painting falls into the category of Op art or Minimalism. Focus on introducing simple concepts, like if the painting is a portrait (of a person) or a landscape (of an outdoor scene). Is it a still-life or an abstract (non-representational). Introduce words to your child and encourage her to repeat them while looking at the artwork. Kids retain so much, which means she might remember later and totally surprise you.
Don't be afraid: Here's the thing — a lot of Renaissance art depicts naked ladies. They're lounging, hanging out in totally absurd locations, and flocked by others. Your child may flip right past that page, or like mine, decided it's the most fascinating thing she's ever seen. Don't be afraid. Ask your child about what she sees in the picture and you might be surprised at her thoughts. Mine told me it was the most beautiful picture of a princess and then decided she wanted to paint a picture of her. Don't feel the need to explain everything. Really.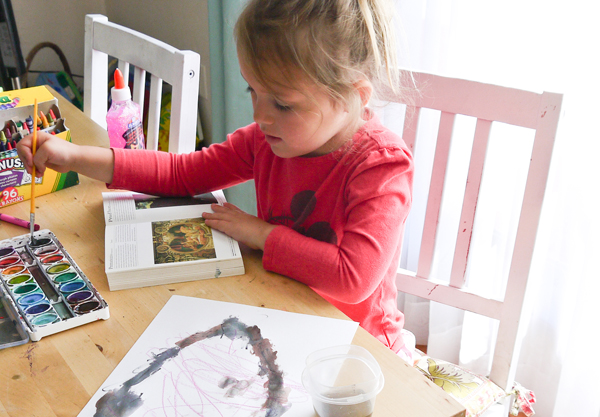 Be silly: No one enjoys a stuffy lecture (really, they don't). Art is awesome, so have fun while you're exploring it with your child. Try to see things from your tot's perspective, which might change how you see things too. Point out areas that are interesting in artworks, take your child on a field trip to look at art in real life, keep it loose and make learning about art a fun experience.
Talk about it: Use unique words, like gigantic, colorful, swirling, dark, crazy, or amazing when talking about artwork instead of opting for "pretty" or "neat". Along with looking at art together, you're encouraging her vocabulary, which is pretty cool too.
Just do it: Really. Instead of sitting here reading this, you should be sitting with your tot and a fun art book. Art is everywhere, even in nature. Go on a hunt for patterns, walk through town pointing out everything that's blue, or take your child to an art opening.
We're going to finish my tot's beautiful princess painting with some glitter glue.