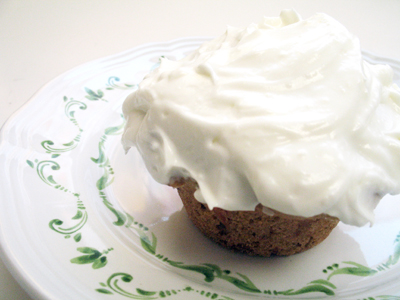 I needed a pick-me-up the other day. Nothing was really wrong or anything. I was just a bit tired, run down, used and abused. Typical for a stay-at-home-crazy-mom, right? So, I figured I owed myself some kind of a treat – a special indulgence. What better way to make everything better than with a tasty batch of cupcakes!
What's great about cupcakes is they are mini cakes. You get your own little cake with its own bit of lovely frosting to eat all on your own – with your hands.
Super yummy.
The typical chocolate or vanilla cupcake wasn't going to cut it. Nope, something special was needed to make me feel better. Carrot raisin cupcakes with vanilla cream cheese frosting would do.
There's no way I'm about to take responsibility for the recipe I used for my dreamy cupcakes. The Joy of Baking provided it for me, which I tweaked a touch for my taste by omitting the nuts and cutting the recipe in half. I didn't need THAT many cupcakes to make me feel better.
Cream cheese frosting is the simplest and yummiest frosting around. Whip room temperature cream cheese with a touch of butter, a couple drops of vanilla, and  a good heap of powdered sugar until you are satisfied with its amazing taste and texture. Cool it in the fridge until you are ready to frost.
Eating one of my cupcakes definitely made everything better – for a little while. Later, I had to eat another one just to make sure.