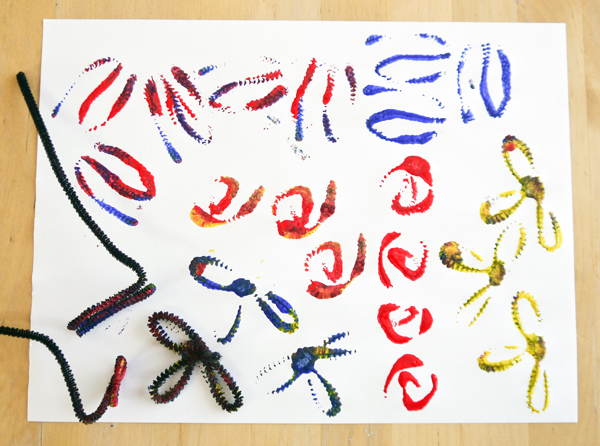 Instead of offering your tot the same paintbrush, hand her a pipe cleaner for a neat twist. Along with using it to create basic line paintings, your child can experiment with bending and forming unique shapes to press into paint and then stamp on her paper. While being creative, she's also honing her fine-motor skills. And this easy art activity is totally appropriate for kids of all ages — and adults too.
All you need are a few pipe cleaners, some paint, paper, paper plates, and lots of patience and creativity.
Select a few colors of paint to use with your child and squirt on paper plates. I chose to use the primary colors for this project so we could do a bit of color theory exploration while creating. Now offer your child a pipe cleaner and invite her to bend and shape it, making sure to leave a short length of straight pipe cleaner for grasping while stamping.
Now invite your child to press the formed pipe cleaner in the paint and press on white paper, creating neat organic shapes. Your child can even use the pipe cleaner to create funky lines. Older kids can create patters or designs, while the younger set can simply stamp away.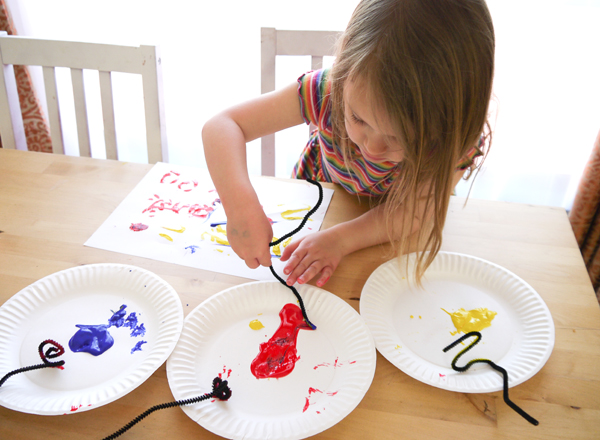 I couldn't resist getting in on the pipe cleaner action and had to experiment making my own unique shapes to stamp into the pant and on my own paper, which enticed my daughter to give my twisted pipe cleaners a try too.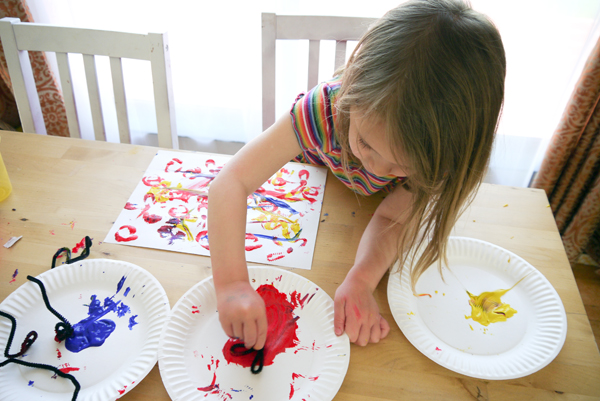 Along with creating fun shapes with the pipe cleaners, we noticed how the paint colors changed when mixed together, making this a great project for introducing and exploring color theory. We found red, yellow, ogarange (or orange), purple, blue, geen (or green), and brown in my daughter's artwork.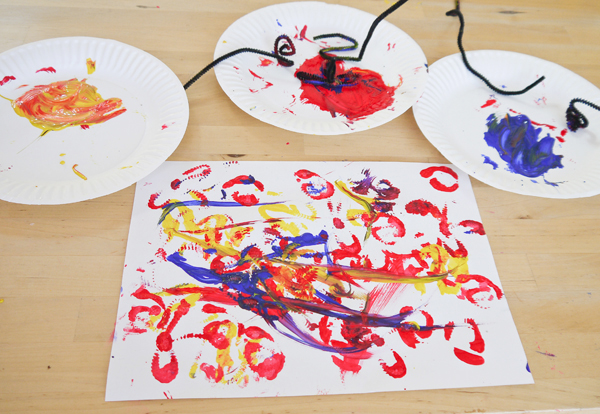 And older kids can really put their fine motor skills to the test by bending and forming really fun shapes to press in paint and then stamp. Here's my finished creation…