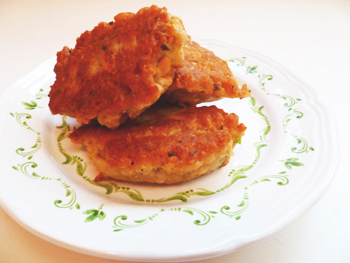 The babe – and the rest of us – aren't eating enough fish. In fact, we are eating NO fish. Partially due to salmon being so expensive, and the husband's refusal to eat farm-raised, there hasn't been much fish going on. I've tried lots of other options such as cod, tilapia, snapper….. It seems the fish my husband is really in love with is salmon. Fresh. Non-farm raised. Salmon.
Well, I can't have us missing out on all that healthful omega-3 fatty acid, so the other day I found a cheaper option, and also satisfied a craving I'd been having. My mom used to make salmon loaf with canned salmon and crushed crackers. It may not sound like yummy vittles to you, but I have fond memories of that salty squishiness. I figured why not make tasty and toasty salmon patties? Really, it seemed like the best option.
At the local fancy-shmancy grocery store I found a can of well-priced canned salmon that stated it wasn't farm-raised (although I had my doubts) and happily toted it home to make my salmon patties. All I can say is there aren't any left….
Ingredients
1 14.75-ounce can of salmon
2 eggs
1 Tablespoon milk
1/4 teaspoon mustard
1 small green onion chopped
1/4 cup shredded parmesan
1 cup flour
1/4 teaspoon baking soda
Dash of salt and pepper
2 Tablespoon vegetable oil for toasting (well, frying actually – but calling it "toasting" makes it seem better)
How you make the loveliness
Open and drain the can of salmon and plop it in a medium bowl. This isn't the most appetizing stuff, but you ARE going to make it better! Mix in the eggs, milk, and mustard.
Sprinkle the salt, pepper, and baking soda over the mixture along with half the flour. Once the flour has been thoroughly mixed, fold in the rest of the flour, the parmesan cheese, and the green onion.
Coat a large frying pan with the oil and heat over medium-high heat. Once the oil is hot, you can add heaping spoonfuls of the mixture to the pan, gently pressing them into oval shapes – or circles, whichever you like.
Allow the salmon patties to toast for a couple of minutes on each side, about 3-4, and then flip revealing toasty brown goodness. Once both sides are evenly browned, drain the patties on a paper towel and allow to cool.
Serve the salmon patties with tartar sauce, place a couple between some slices of toasted bread smeared with mayo and some spinach leaves, or roll in a whole-wheat tortilla along with some sour cream and salsa.
My daughter couldn't get enough of these salmon patties dipped in plain Greek-style yogurt.
YUM.