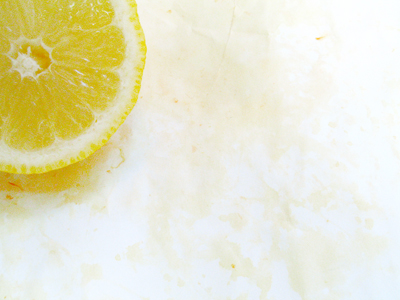 While baking some lemon muffins for a play date, my daughter wasn't excited about not being the center of attention. She was clinging to my skirt, making moving about while baking my muffins almost impossible. I tried prying her away with the enticement of food, but she wasn't having it. I needed to think of a different way to distract her.
I strapped her into the high chair and taped a paper onto the tray. Because I was using lemons for the muffins, I figured she could use one, too. With the help of a small amount of yellow watercolor paint, she could create a fun lemon printmaking artwork, which would keep her busy and also taste good!
I cut one in half and painted the exposed lemon with a small amount of yellow watercolor paint. Before handing over the lemon, I tapped it a couple of times on her paper showing how prints could be made from the flat side of the lemon. She was intrigued and continued tapping the lemon on her paper. After a bit, I wasn't hearing a steady tap, tap, tap. Sure enough, my daughter had decided to take a time-out to taste test her new art material. Her face was a bit twisted up at the tartness, but she didn't seem to mind. She spent even amounts of time sucking at the lemon and then slamming it onto her paper.
Before handing a lemon over to your wee tot to enjoy making lemon prints, remove as many seeds within sight of the cut lemon. This is supposed to be a fun art activity, not an opportunity to do the Heimlich maneuver. Re-apply yellow watercolor paint as often as you like to the cut lemon. Watercolor paints aren't going to hurt your little one, and using something tasty as their art-making medium (the lemon) is a fun way for young kids to explore making art.
Don't have any lemons in the house?  Half an apple, orange, or lime work great, also! The finished prints can be used for cutting practice, glued to the front of a recipe card for a recipe using lemons (like lemon muffins!), or simply enjoyed taped to the family fridge.