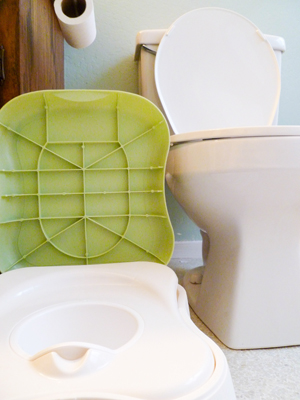 This week was all about potty training at our house. My parents had recently left after enjoying a wonderful visit and I figured it was as good as time as any to transition into a real attempt at potty training. She was already missing her grandparents, so potty training was the perfect diversion.
Or so I thought.
I purchased a potty seat several months ago and it's spent time hanging out in both bathrooms, been pushed around the house, used as a step stool, and sat on, like, once. Total.
Once.
And that experience involved a half-finished and quite messy number 2 incident.
I'll spare you all the details.
So, with lots of gusto, and some tasty treats in my back pocket, I started out strong on Wednesday with hitting the potty every half hour or so. This meant I had to sit on the potty with the tot every half an hour or so.
That's a lot of sitting on the potty.
At first she was totally into it and I was tossing out a small treat for at least just getting her bare tushie on that potty. With the motivation of more than one treat if anything actually happened while sitting on that potty, she was doing okay – but no success.
Half way through the day I recognized the signs. The moving off to a quiet spot, the change in facial expression, the concentration….
I grabbed her as fast as I could and whipped off her diaper placing her already-somewhat-soiled-bum on that seat.
She SCREAMED.
She sat there and was totally freaked out about what was happening. Yeah, she was checking the whole thing out and she wasn't super psyched about the process of elimination.
After we were both cleaned up, I offered tons of positive praise along with a big handful of treats.
She was still not happy.
When we went near that potty later in the day she screamed NO and proceeded to run from me and slam the bathroom door.
"NO potty, NO!"
As she sat crying and kicking and fist pumping the floor (total tantrum mode) I figured we could take a break for the rest of the day.
Wondering how the rest of the week went?
Pretty much the same.