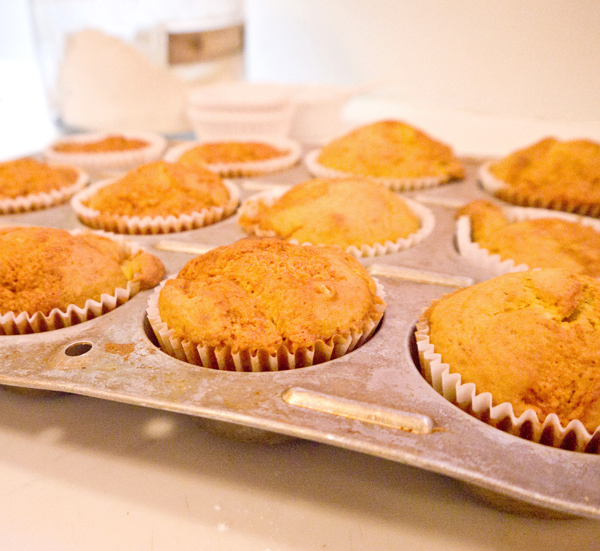 I had an odd collection of items in the fridge that needed using in some way or another. An end of a butternut squash, half a can of coconut milk, steamed spinach, a bag of cooked pasta…. I had a fleeting idea of tossing everything together into a butternut squash coconut curry pasta dish to enjoy for lunch, but then the tot caught sight of those noodles and she just had to have them.
As soon as she finished her lunch she demanded some sort of "treat" as a reward.
Damn Halloween.
But our candy was fresh out and instead of her begging for "A TREAT A TREAT A TREAT," I thought it would be wonderful if we baked a treat together instead. And mixing together the high-in-antioxidants butternut squash and coconut milk had the beginnings of a really flavorful and healthy baked goodie. Coconut milk is nut-free, vegan, and vegetarian, making it a fitting alternative to milk when baking and cooking. And it's nutrient rich, high in protein, and packed with healthy fatty acids. I love cooking and baking with my tot because it's not about how pretty things turn out, it's all about creating something together — and making it taste good while being healthy.
Ingredients
1/2 cup cooked butternut squash
1/2 cup sugar
1 teaspoon vanilla
1 cup coconut milk
1 egg
1 tablespoon vegetable oil
1 teaspoon baking powder
1/2 teaspoon baking soda
1/4 teaspoon cinnamon
Dash of salt
1 1/4 cup flour
Honey
Directions
Let's be honest, there's not much to this recipe. Preheat your oven to 375F and then invite your child to help measure and add the ingredients into a mixing bowl. Slowly stir everything together until the batter comes together. And if a little more of this or that ends up in the mix, I'm sure your muffins will still be tasty.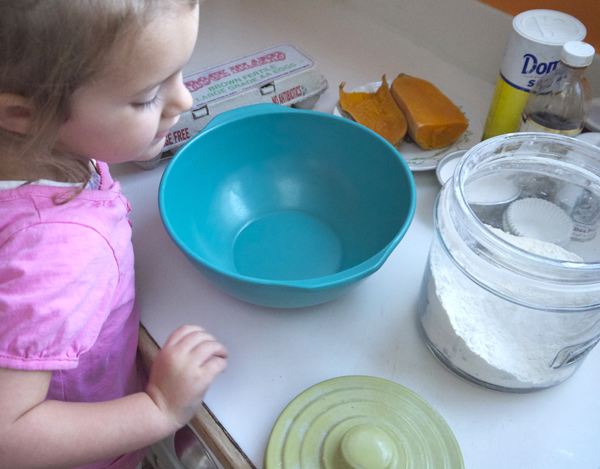 Then pop liners in a muffin tin and then invite your child to (attempt to) evenly distribute the batter in the tins. Drizzle with a squeeze of honey for extra yummy flavor. My tot assisted with the drizzling while her favorite stuffed animal watched, making sure she got a big glop on each muffin.
Place the muffins in the oven for 20-minutes or until the tops are nicely browned and slightly cracked. Let cool and then dig in.
Enjoy!