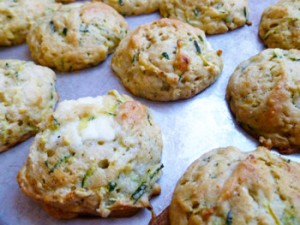 I've been craving some zucchini muffins and picked up a ton of fresh locally grown zucchini the other day at the market for what seemed like nothing. But, the weather had other plans, and with a couple straight days in the triple digits, those tasty muffins were put on hold. Luckily, zucchini is a tough veggie and held up in the fridge until I was able to bear some baking in the kitchen. Yesterday, those lovely green things were grated, and mixed together with another of my favorite ingredients, to make some super yummy (and healthy) muffins.
My daughter isn't so excited about her vegetables, other than peas, so I'm always looking for various ways to mix veg into her meals and foods. She also just started preschool and putting any sort of meat in her lunch isn't a great option. First, by the time she gets to it, the wee chunks of meat are usually not so appealing. And, secondly, if her little group eats outside, the bees are awaiting to get at that meat. No one wants babes eating bees, so I leave it out and prefer other protein options. Ricotta not only offers a protein punch – but creamy and healthy calcium, and total yumminess.
And, I use whole-milk ricotta. Anything else is pointless. Seriously.
These are simple muffins to make and you can add other ingredients along the way to create your own spin on things. I made itty-bitty muffins so my daughter could easily eat (and walk around with) her own little muffin, and a couple regular sized for me to enjoy during my own lunch breaks.
Ingredients
2 cups shredded zucchini (about 4 zucchini)
1 egg
1/2 cup vegetable oil
1/2 teaspoon vanilla
1/2 cup milk
A dash of salt
1/4 teaspoon cinnamon
3/4 cup sugar
1/2 teaspoon baking powder
1 teaspoon baking soda
2 cups flour
1/2 cup whole milk ricotta
How to make them
Preheat your oven to 375 degrees Fahrenheit and get out your grater. Give your hands and wrists a couple of good wriggles and shakes to stretch them out before grating to prevent sore muscles later – or just get out your trusty food processor. But, I prefer the sore muscles and grate my own zucchini. It makes me appreciate the muffins oh-so-much more later.
Shred up your zucchini into a large bowl. Add the egg, oil, vanilla, and milk and mix together creating a big slurry mess. If you've got kids, this is a great time to let them do some stirring – just make sure no one does any taste testing and that everyone's washed their hands first.
Add the sugar, dash of salt, cinnamon, baking powder, and baking soda giving everything a good mix. Then, slowly add in the flour, mixing gently along the way.
Once the batter has come together, gently fold in the ricotta. This ensures that the muffins are flecked with big chunks of ricotta, which equals total goodness once baked.
Slightly grease your muffin tins with a paper towel dipped into a bit of vegetable oil, or spray them with cooking spray. You can also line your muffin tins with liners if you prefer not having those muffin tins to clean out later (which can be a bit of a pain).
Fill muffin tins with batter until they are just about full and then place into your toasty-hot oven. The muffins need to bake for about 15-20 minutes, or until the tops are golden brown and a toothpick comes out dry.
Let the muffins cool in their little muffin tins for about five minutes and then remove and allow to cool completely before eating. This will ensure lovely cake-like muffins instead of nasty doughy ones.
These muffins are great packed in your babe's lunch box, for a family gathering, or as a tasty treat after dinner. Because they don't have loads of sugar, you can feel good about sharing them with your kids and not having them climbing the walls later from a total sugar buzz.
Other options
If you want to go crazy with these muffins, you could add:
1/2 cup raisins
1/2 cup oatmeal
1/2 cup silvered almonds
1/2 cup mini chocolate chips
Yes, you could add ALL of the above listed ingredients for crazy good muffins, or just a bit of this or that. The recipe is easily added upon to make the perfect muffin for your taste.
ENJOY!
The other day my husband "mentioned" he might be interested in having some homemade granola. I totally understand that he has these passing fancies for random things, but after he mentioned it, I got a hankering for some granola too. It's been awhile since I tossed together a batch of granola, and was ready for the adventure.
A long time ago, in a whole other life, I worked at this crazy little health food store in Uptown Minneapolis called Tao Natural Foods. It was a fun job – and a wonderful environment. I learned all about vitamins, health food, why people drink wheat grass, and cooking. I love to cook, so having the opportunity to make fresh salsa, hummus, and granola on a weekly basis (and get paid for it) kicked ass.
I always made the basic granola, but would then add seasonal ingredients or something different to make it interesting. But, I always stuck to the basic deal. Oats, almonds, honey, cinnamon, vanilla, sugar, and butter. There are a couple other things that go into it, but if you have those few, simple ingredients, you can make a chunky, totally grungy, granola.
Not only is this a healthy granola, it fills your house with an amazing smell. A smell that makes you want more, and more, and more. Once you've made it, you'll want to tweak the recipe to fit your taste, add ingredients that you love, and enjoy the total yumminess of granola.
Ingredients
6 cups oats
1 cup slivered almonds – toasted
1 teaspoon cinnamon
1/2 cup sugar (I like using raw, unrefined sugar – and you can use brown sugar, too)
2 tablespoons vegetable oil
1 tablespoons honey
1/2 cup water
1 tablespoon butter
1 teaspoon vanilla
2 tablespoons maple syrup
How to make the stuff
Start by toasting your silvered almonds in a 350˚F. It only takes a couple of minutes, so don't wander too far. Create an even layer of the almonds on a sheet tray and toss them in the oven. After about two minutes, they'll be ready for flipping and then cook for just a couple of minutes more.
While your almonds are toasting, measure your oats into a nice sized mixing bowl. Sprinkle in the cinnamon, and a good dash of salt, and then stir.
Once the almonds are all toasty, carefully add them to your bowl of oats. Stir it all together and lower your oven temp to 325˚F.
Now measure the water, sugar, honey, oil and butter and place in a small saucepan. Gently bring the ingredients to a boil while stirring. You don't want to lose any of this precious liquid!
Once the sugar has melted together with the other loveliness, turn off the heat and add the vanilla. Pour over your bowl of oats and stir with a long-handled spoon to coat the oats and cool them to a comfortable hand-touching temperature.
Get out a couple of sheet pans and evenly distribute your coated oats. Wash your hands and get ready to release some stress! Squeeze your oats, pinch them, and mush them up creating fantastic chunks of granola. Gently shake and move the trays to distribute those happy clusters so there is an even layer of gnarly oatmeal granola and place in your oven.
Let the oats toast for about 10 minutes and then remove the pans and gently use a spatula to turn and move the granola.
Put the trays back in the oven and continue turning and cooking until everything is a golden brown, which can take up to 45 minutes.
NOW, the best thing ever is to remove those hot pans, place them atop your oven, and drizzle the granola with REAL maple syrup. We're not talking cups or anything, a couple of tablespoons will do. You'll hear the maple syrup caramelizing on the pans as it hits the residual heat.
Gently turn the granola, helping to coat the outside with the maple syrup.
Wait at least 30 seconds before attempting to eat your fresh granola or you will burn your mouth. YOU'LL BURN YOUR MOUTH!
Let the granola cool completely and then store in airtight containers.
Considerations
You can add tons of stuff to this basic granola – pretty much anything you can think of. I've tossed in dried fruits, raisins (duh), all different kids of nuts, and even fresh herbs. The best way to incorporate additional ingredients is to gently mix the items into the granola after it's been removed from the oven while it's cooling. This way the ingredients don't dry out in the oven, and remain fresh and tasty.
Yes, this granola is healthy. It's made with oats. That's healthy stuff. You can use your homemade granola for lots of things other than for breakfast, such as added to stuffing for cooking with turkey or chicken, grinded up for coating your favorite filet of fish, or tossed into your fresh popped and buttered popcorn – or sprinkled on really good vanilla ice cream!
I just eat it by the handful.