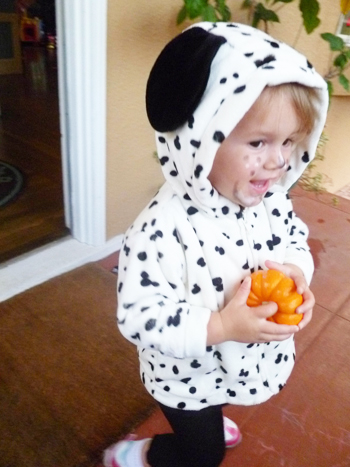 Well, yesterday was Halloween, and out daughter didn't have a clue. But, just like every other parent out there, we scrambled to find a costume that she would actually wear (and not tear off the minute we put it on her) to parade her around while gathering candy we would hide from her and actually end up eating ourselves.
The thing is, Halloween is a big day for dress up. Dressing up is a big part of imaginary play – and imaginary play is a super-big part of growing up. We as adults even do a little dressing up here and there. That power-suite you wear not only looks good, but helps you feel the part, doesn't it? And, for a child, dressing up gives her budding brain an opportunity to imagine situations other than her own reality and explore problem solving and role-playing.
Due to spending most of the month of October dealing with a sick kid, I was a bit lacking on the costume front. But, I did dig out a doggy jacket that a dear friend had given me as a baby shower gift and some face paint. Within seconds a wee puppy dog had emerged and was ready for a Halloween adventure. We have friends that invited us over to see what would happen when you take a couple of 22-month-olds out on the street to knock on doors asking for candy.
And, what we got was a ton of cuteness! My wee tot tossed out a couple ruff-ruffs here and there – and even found a puppy who wanted to help her be a real dog!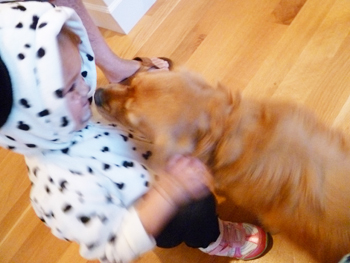 As we are getting ready to head out the door this morning, my daughter already has on her doggy jacket and is walking around the house emitting ruff-ruffs at the cat and the hubs.
I'm sure they wont mind a puppy dog a preschool today, right?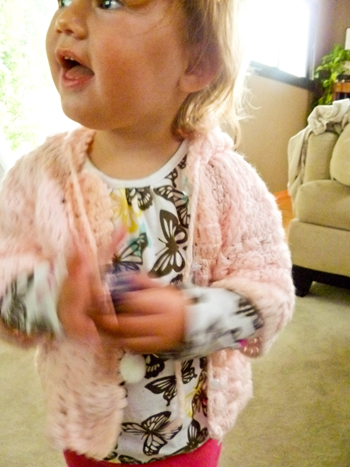 The truth is I got so caught up with the babe's fever that my plans for creating a fun and absolutely fabulous Halloween costume have totally disappeared. As always, I had some pretty grandiose plans earlier in the month. That was before I got a couple of writing assignments, got caught up watching baseball (really, I did), and busy dealing with sick baby. I finally took a quick peak at the calendar today and realized – gasp – that Halloween is but a days few away!
This made me even less motivated to try to get my creative juices flowing or even go near the sewing machine. The thing is, little kids could care less about dressing up. We, as parents, do it so we can snap thousands of pictures of the adorable moment and then laugh amongst ourselves while watching the wee tot pull desperately at the darn costume doing anything they can to tear it off. Finally, we end the torture and let them walk around with half the costume on, which is still pretty cute.
My child is WAY too young for trick or treating. But, we have some wonderful friends that invited us over to help pass out candy and then maybe parade our dressed-up children up and down the street for fun. So, of course, I need to have something absolutely fabulous to toss her into for the special occasion. And, it's Halloween after all.
But, I refuse to buy a costume. In all the years I dressed up, I don't remember mom tucking me into a pre-purchased Cinderella outfit or plopping me into a zip-up-the-front Elmo. I'm not saying buying your own costume is a bad thing – I'm just not into it. Earlier in the month, I had visions of creating a flower head-piece and a green shirt with felt leaves attached. I'm now leaning toward her hippie-print pajamas I picked up two weeks ago and lots of beads and bracelets.
So, crafty mammas and daddies out there, what's your favorite homemade costume? Anyone want to share?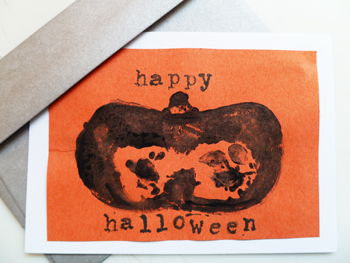 Well, fall has found its way into my home. The cooler evenings have encouraged those cozy blankets to be dug out from the closets and the whirling, falling leaves are all around. As much as I don't want to admit it – I'm really glad to see fall this year. Our summer months weren't the best and if it's going to be on the cool-ish side, I'd rather have fun fall leaves to play with and the excitement of the holidays just around the corner.
Even though my daughter can't talk yet, I'm pretty sure her favorite holiday is Halloween. How can't it be, right? Halloween means costumes to wear, trick-or-treating, eating candy, and all that crazy spookiness. So, I figured my babe would want to make some adorable Halloween cards to pass out to all her new friends in preschool. My local market had the cutest (and smallest) pumpkins out front the other day, and a couple made their way to our home. But, instead of using them to decorate the mantel, I decided to turn one into a fun arty activity.
First, I cut a wee little pumpkin in half. Then, I placed a small amount of paint on a paper plate, positioned a piece of classic orange construction paper on the worktable and let my daughter stamp away. When I thought she'd got a couple of good pumpkin halves on the paper, I would deftly switch it out with another blank orange paper for her to continue stamping away. The result was several great pumpkin stamps that I could use.
I searched through my stash of old cards until I found several outdated Christmas cards that had matching envelopes. I got out my trusty paper cutter and cut nice squares framing those stamped pumpkins. Then, I used some letter stamps to write out "Happy Halloween" and my hot glue gun to connect the finished product to the front of the card – wonderfully covering the cat with the Santa hat saying "Meowy Christmas."
I just know that my daughter's going to love sharing these cards with her friends along with passing out some tasty treats on Halloween.
Well, maybe I'm a bit more excited about it than she is…