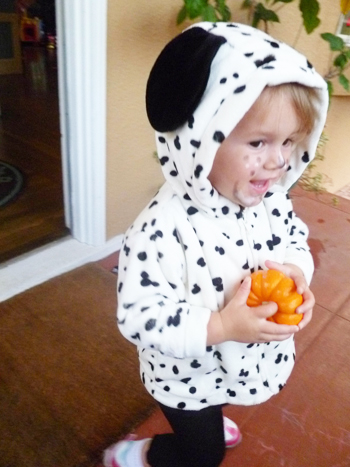 Well, yesterday was Halloween, and out daughter didn't have a clue. But, just like every other parent out there, we scrambled to find a costume that she would actually wear (and not tear off the minute we put it on her) to parade her around while gathering candy we would hide from her and actually end up eating ourselves.
The thing is, Halloween is a big day for dress up. Dressing up is a big part of imaginary play – and imaginary play is a super-big part of growing up. We as adults even do a little dressing up here and there. That power-suite you wear not only looks good, but helps you feel the part, doesn't it? And, for a child, dressing up gives her budding brain an opportunity to imagine situations other than her own reality and explore problem solving and role-playing.
Due to spending most of the month of October dealing with a sick kid, I was a bit lacking on the costume front. But, I did dig out a doggy jacket that a dear friend had given me as a baby shower gift and some face paint. Within seconds a wee puppy dog had emerged and was ready for a Halloween adventure. We have friends that invited us over to see what would happen when you take a couple of 22-month-olds out on the street to knock on doors asking for candy.
And, what we got was a ton of cuteness! My wee tot tossed out a couple ruff-ruffs here and there – and even found a puppy who wanted to help her be a real dog!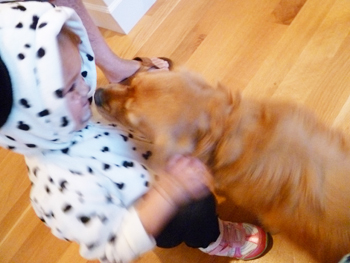 As we are getting ready to head out the door this morning, my daughter already has on her doggy jacket and is walking around the house emitting ruff-ruffs at the cat and the hubs.
I'm sure they wont mind a puppy dog a preschool today, right?