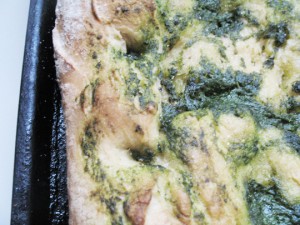 There's nothing like a piece of yummy warm bread fresh from the oven. The smell of home-baked bread is a fabulous way to entice your family to a meal. It's also super easy and a great way to use up those leftovers hanging out in the back of your fridge. I make focaccia bread when I'm invited to a friend's house and always use the same base recipe, and then add different toppings to keep it fun and fresh.
Encouraging picky eaters can be frustrating. Satisfying everyone with one meal can sometimes be impossible. But, you can tackle the challenge by getting everyone in the kitchen to help with a family focaccia. By letting each family member pick their favorite ingredient to add to the focaccia, you might be surprised with the results – and how everyone's excited to give it a taste!
Ingredients
1 cup warm water (about 100 degrees Fahrenheit)
1 tablespoon olive oil + 1 tablespoon for drizzling
1 tablespoon yeast
1 teaspoon sugar
dash of salt
2 cups flour + up to 3/4 cup additional for kneading the dough
How to make the yummy stuff
Start by pouring 1 cup warm water into a medium-sized bowl along with 1 tablespoon olive oil, and sprinkling it with 1 tablespoon yeast, 1 teaspoon sugar and a dash of salt. Let the water sit for a couple of minutes until the yeast begins to bubble and activate.
Begin stirring in the flour, a little at a time, until it forms a sticky ball. Dust a work surface with flour and begin kneading the dough until it comes together into a nice dough that is soft to the touch and doesn't stick to your hands. The kids can help by kneading the dough or measuring and adding additional flour, which encourages their fine-motor skills as well as their math and measuring skills!
Place the dough in a medium-sized bowl with a fresh clean towel placed over the top to rest and double in size, which takes about an hour.
While the dough is resting, everyone can gather their desired ingredients for the family focaccia! Fresh herbs, sliced tomatoes, diced olives, spinach leaves, shredded cheese, leftover hamburger, sliced pepperoni, white beans – even sliced figs make for great focaccia toppings! The ideas are endless!
Preheat the oven to 450 degrees Fahrenheit and grease a large cookie sheet with olive oil and have everyone press the dough (with freshly washed hands, right?!) so it reaches the edges of the pan. Now it's time to layer on the ingredients! Once each family member has added their ingredient, take turns using fingers to press the ingredients into the dough by pushing down – but not hard enough that the dough tears or breaks through to the bottom.
Drizzle more olive oil over the top and place in a 450 degree oven until toasty brown. Allow the focaccia to cool and then serve alongside dinner, or FOR dinner! Leftovers can be cut into squares and sliced in half to use as sandwich bread.
YUM.