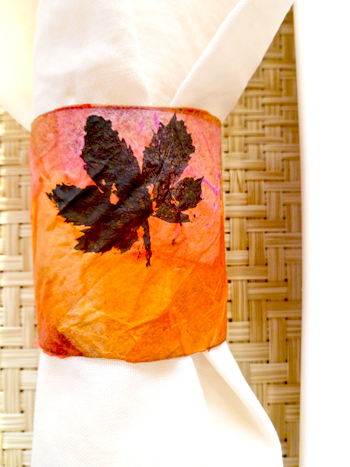 With Thanksgiving right around the corner, your festive holiday table can become even more special with the addition of some colorful fall leaf napkin rings. This is a simple project your child of any age can accomplish – you just might have to offer a bigger helping hand with the wee tots. But, have no fear, this is a no-fail project that requires art materials you probably have around the house!
No one wants bits of dried leaves in their green bean casserole or tasty mashed potatoes, so using colorful tissue paper for the outside of the napkin rings is a great solution. And, before you toss that cardboard paper towel or toilet roll, it can be transformed into a napkin ring! With the addition of some beautifully positioned leaf prints, you've got a winner of a fall leaf project and a way for your kids to get in on the fun of decorating for the holidays!
Start by inviting your child to help cut the toilet or paper towel rolls into 2-inch sections. Cutting encourages your child's fine-motor skills, which are beneficial for his ability to hold small objects or use a pencil to do all that writing.
Head outside and spend some time walking about the yard or neighborhood looking for great fall leaves that are filled with color. Your child can bring a little bag or container to collect his leaves, and you can both enjoy a bit of quality time together in the fresh autumnal air!
Once you get home, spread those fall leaves all around a work space. Get out some tissue paper and encourage your child to select colors that match with the colors of the fall leaves he just collected.
Now he can tear the tissue paper into little bits. Tearing paper is another great way to encourage your child's fine motor skills, once again building up those wee muscles in his hands!
Mix together equal amounts of water and plain-old glue (about a teaspoon of each) to create a nice wash your child can use to slather all over those bits of tissue paper around the cut piece of toilet paper roll. Encourage him to keep layering, which will create a nice and colorful napkin ring.
Set the covered roll aside and have your child keep working to create a set on tissue paper rings. Let them fully dry overnight, or at least for two to three hours.
Now your child can select a couple of his favorite small leaves to use for embellishing his colorful napkin rings. All he needs to do is paint over his selected leaf with black paint and then press onto the outside of the napkin ring! It's that simple!
Once the napkin rings are dry, he can help put a napkin through the ring and place them on the table to enjoy during the next holiday dinner!
Happy fall!