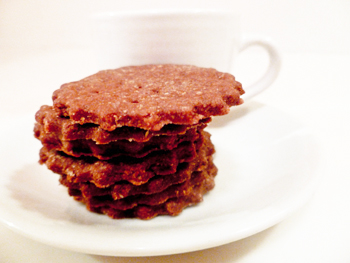 The other night I was in a bad way. I needed chocolate something fierce and all that was hanging about in my pantry were a few dusty items, including some super tasty cocoa. But, sadly, you just can't eat good Dutch cocoa straight from the fancy box. It has to be masterfully combined to create a torte or soufflé or something. And it was way too late to go down that route. I munched on a couple old and super pathetic crackers and pretended they were coated in dark chocolate.
In the morning I still had a hankering for something chocolate and those lame-0 saltines had me thinking. With some super basic ingredients, couldn't I make chocolate crackers? It couldn't be that hard, could it? So, I did some research and didn't really come up with much. The closest recipe I found was for chocolate graham crackers.
Nope.
I just wanted CHOCOLATE crackers.
So, I did some experimenting and came up with a recipe that even got my husband-who-doesn't-like-sweets chowing these like they were the best things ever. He even claimed they were better than the tops to Oreo cookies.
And, I can't say I disagree.
Ingredients
1 1/4 cup white flour (you could use whole wheat, too – or half white flour and half whole wheat)
1/2-teaspoon salt
1/2-cup good cocoa
1 cup powdered sugar
1/4 cup white sugar
1-teaspoon baking powder
1/2-teaspoon vanilla
1/2-cup cold butter cubed
1 Tablespoon milk  – or you could use cold coffee or espresso
How to make the tastiness
Measure all the dry ingredients into your trusty food processor and pulse. Then add the cubed cold butter, vanilla, and milk and pulse until it forms a ball. Remove the goodness from your food processor (I dare you NOT to taste it) and wrap in plastic wrap. Place the dough in the fridge to cool for at least 30 minutes. Cold dough will roll easier.
If you don't have a food processor, place the dry ingredients in a bowl and mix well. Then, slowly cut in the cold cubed butter. Yes, I know, you are already getting tired, but it WILL be worth it. Slowly add the vanilla and milk until it forms a smooth dough. If you can still feel your arms, wrap the dough in plastic wrap and chill in the fridge.
Remove your chilled dough from the fridge and dust your work surface with flour. Preheat your oven to 325 Fahrenheit and get ready to roll! Pinch off half the dough and generously dust with flour. Gently roll the dough until it is about 1/2 inch thick.
Get out a fun cookie cutter, or just use your pizza roller to cut the dough. Place the lovely bits onto a sheet pan that has either been lightly greased or, if you're fancy and have some, covered with parchment paper.
Before placing in the oven, use a fork to gently prick the top of your wee crackers. Then bake for 7 to 10 minutes.
This recipe made lots and lots of little round crackers that totally took care of my chocolate craving. You could place a lovely filling inside the crackers to make fun treats or enjoy them on their own.
(I ate half the batch straight from the hot oven.)
Oh, and these would be great little treats for the kiddies. You could totally create a healthy after school snack by dipping these little chocolate tasties in plain yogurt or giving a couple a coating of peanut butter. And, kids love rolling and cutting out dough – so they could totally help out making lots and lots of these tasty goodies!
Tasty.