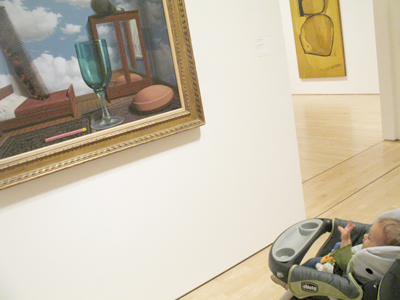 The other day some fellow friends along with my husband and I took our wee ones to the San Francisco Museum of Modern Art. I have wanted to visit the SFMOMA for years but for some reason,  just haven't made it. They have a Richard Avedon exhibit right now (and only a bit longer) so we all really wanted to go. We assumed the babies did too (even though they couldn't say so).
I loaded up the stroller (do they even allow strollers at the SFMOMA?), packed a pacifier, a collection of easy to eat foods and we headed out. At no point did I stop to think about what would happen inside the museum – what would happen if my precious baby decided she DIDN'T want to see Richard Avedon at the SFMOMA. I was only thinking of myself and how excited I was to go to the museum and hang with my friends. So selfish I am.
We strollered on into the museum, all agape at the amazing artwork and architecture. The babies were doing just fine and seemed pretty content to just roll along and take it all in. Then, we got into the special Avedon exhibit. For absolutely no reason, my wee baby decided she had had enough. The tears were streaming and the cries were loud. I waited for the upset stares and the security people to usher me out. I pressed a hand over my wailing baby's mouth and headed for an exit. Surprisingly, a guard just smiled at me and told me to not worry about it – she is just a baby after all. Wow!
What a fabulous day we all had! It was awesome to see artwork up close and personal that I knew so well from textbooks. My baby might not be able to distinguish between a Picasso and a Rivera after her visit to the SFMOMA, but she did get a good wave in at the Magritte.