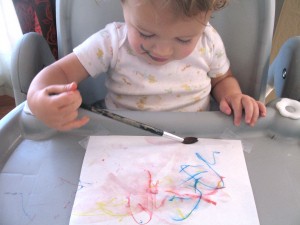 Even the very young benefit from exploring their ability to make marks, which may not look like much, but are essential to their art development.  Your child's creative growth is encouraged through making messes, scribbling, and trying new things. Toddler artwork is truly abstract, with no recognizable shapes or design, but can be proudly displayed around your home or used for other fun projects.
An engaging and fun artwork can be accomplished with your young child by taping a square of drawing paper, or if you feel like splurging, watercolor paper, to their high chair tray. Toss your babe some washable markers and let her explore creating lots and lots of lines. She will inevitably do some taste testing with those markers, but have no fear, they aren't toxic, and washable markers mostly wash off (red is a bit challenging to remove from clothes and skin).
Once your little one has covered her paper with lines of color, replace those markers with a wet paintbrush. Let her paint over the lines and watch as they blend together and change. When the paintbrush becomes dry, re-wet the paintbrush for her and allow the painting to continue.
Remove the tray before the paper gets too soaked and wipe your babe down – especially if she has marker on her hands or around her mouth. Washable markers are great if you can toss the marked items in with the laundry – couches don't fit in the washer!
I proudly display my daughter's artwork on the fridge, but you could cut and paste them on the front of cards to send Grandma, or place them in small frames around the house. I've even used pieces of baby painted paper for wrapping gifts!
Take the time to create some art with your babe today. Encouraging her creativity will benefit her budding development and allow you both to enjoy some important bonding time together!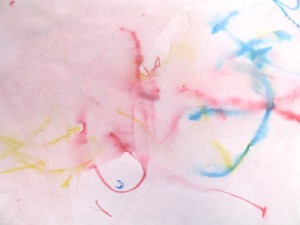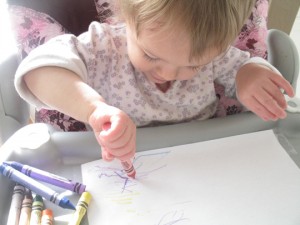 Taking care of your baby is lots of work and sometimes finding the time to do something creative can be overwhelming. The dishes need to be washed, the laundry done and the shopping taken care of. Don't neglect doing an educational and fun activity with your babe! Not only will it encourage your baby's developing skills, it will help you bond with your little one!
Finger painting is a super easy way to do an art activity with your small child and also have a nice finished art product. Use red, yellow and blue finger paint on a small piece of finger paint paper taped to a table or the tray of your baby's high chair to create a fun (and messy) art project. Protect baby's clothes with an old t-shirt or put a bib on her. Hose baby down when you're done or coordinate finger painting projects on bath day and toss her into a soapy tub when finished. Place the finished finger paintings in a decorative frame for an adorable display.
Create a digital picture collage with your baby. Do a quick photo shoot with your little one while they are enjoying a fun activity or eating their favorite food. Take several shots of them close up, making sure the pictures are in focus along with action shots and pictures from afar. Print the pictures out from your photo shoot and collage them on a large sheet of paper. Make sure to include a date on the collage to memorialize your photo shoot! Hang the finished artwork in baby's room so they can enjoy looking at themselves and learning all about the parts of their face and fun expressions.
Hand and foot prints are a fun way to document how big baby is getting. Using a plain white onesie and some fabric paint, you can create a memorable print, as well as a fun outfit. Lay the onesie out flat with a sheet of paper between the front and back. Paint baby's hand or foot with fabric paint. Press the hand or foot onto the onesie and quickly remove. Make sure to clean off baby! Allow the fabric paint to dry and then follow fabric paint directions to finish.
If you aren't ready to tackle a full on art project with your little one, strap them into the stroller and head out to the local art museum. A walk through a gallery or art museum introduces your baby to the arts and is a great way to spend an afternoon.
No Matter what simple art projects you enjoy with your little one, know you are helping them to explore the arts and cherish them for years to come.