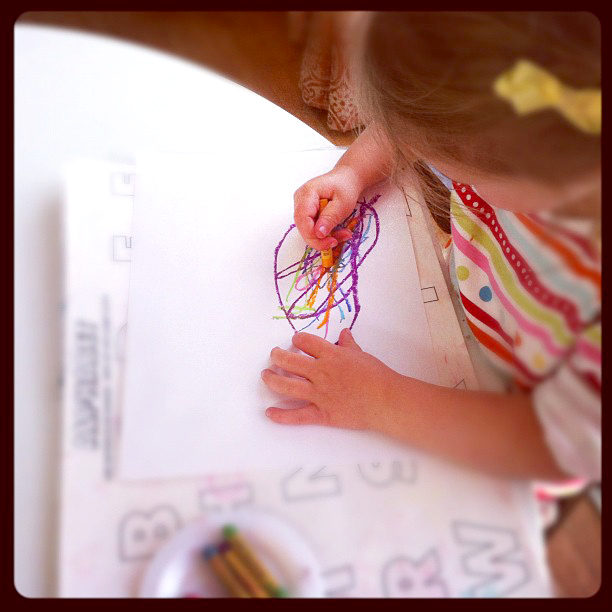 Remember last week when I shared that post about right-brained dominant (a.k.a super creative) kids? While writing it, my toddler was enjoying her not-really nap-time. She doesn't really sleep anymore, she just has quiet time in her room. I've got it stocked with her favorite books, stuffed animals, a chalk board with chalk, and most recently, crayons and a few coloring books. She's really into creating tons and tons of creations to mail to Gamma and Opa, so I figured I could trust her to keep those crayons on the paper.
Because, you remember when she colored on the wall, right?
(which resulted in the homemade chalk board…)
The thing is, your toddler is hard-wired to make marks. Her right-brain is in overload, desperately searching for ways to share thoughts, feelings, and ideas. This stage of creation is referred to as the scribble stage, due to the child's desire to scribble, scribble, scribble. Nothing looks like much, but your toddler can actively tell you about the animals, monsters, people, and other crazy stuff in artworks. Before you discard those pages and pages of scribbles, understand it is the expression of your child's brain developing in amazing ways. From starting to understand hand-eye coordination to simple mathematical concepts, your toddler's scribbles are the stepping stone to speech, reading, and writing development.
Meaning, it's a good idea to encourage your child's disorganized scribbling as much as possible.
But what to do when your child colors on everything and anything possible?
Remember the afore-mentioned day – that day I was writing and the tot was "napping?" When I went down to see if she had actually fallen asleep, because things had gotten pretty quiet, I made quite the discovery. She had colored everywhere. From her dresser to her closet doors to her side table to her light switch, just about everything in her room had a colorful mark.
Before I took a moment to think I scolded her. Instantly I realized it was the absolute wrong decision. She had spent just over an hour artfully decorating her room in a way she was excited about and excited to share with me. She had spent time expressing herself though scribbles and colors (really, each area was a different color combination), and she was looking forward to dazzling me with its beauty. And, I had left those crayons in her room. After we both calmed down, the two of us spent some quality time together cleaning up those scribbles and discussing where those crayons belong – on paper!
Do you have a super scribbler? Here are a few simple ways to encourage those marks to stay where you want them:
– Don't leave any mark making implements within reach of your child (unless you are right there!): Yes, this is a bit of a no-brainer, but, as your toddler ages, you begin to feel they have an understanding of keeping crayons on the paper. Remember your toddler is still a toddler (until the age of four) and still has those inner-toddler instincts to see what might happen. Leaving crayons out for your child is an open invitation to color away on whatever is available. Make time to color alongside your toddler showing your amazing skills to keep those crayon scribbles on your own paper. Toddlers love copying behavior.
– Designate a coloring area: Make a spot in your home just for your toddler to create. Whether it's the kitchen table, a small end table no one uses or an easel in the corner, make sure your toddler knows this is "the spot" to go for making marks. Keep the area stocked with paper, stickers, and chalk (which washes off everything) but keep the markers and crayons out of reach. When your child finds herself over at her creative spot, offer crayons, markers, or paints – but keep an eye on things. As your child matures, she'll understand the area is for being creative, and markers shouldn't travel around the house.
– Don't be afraid: Sure, you might not be into fingerprinting, but your child is. Art is one of the main ways a child defines who they are. Getting creative with your child shows that you find her scribbles important, encouraging her self-esteem. You're going to get messy. Your child is going to get messy. Stuff in your house might get messy. But, if you have a plan of attack, and stay calm, things will turn out wonderfully. Use plastic placements under paper to cut back on mess. Or, place a sheet pan under artwork while painting. Keep a wet washcloth (or a container of baby wipes) next to your creative area to tackle messes the minute they happen.
– Don't yell (but don't praise either): At some point your child is probably going to color on something. Hopefully, it will be with a mark-making implement that is washable. Before reacting, take a deep breath. If you are expecting it to happen during the toddler years it won't be such a big surprise when you come across a colored white wall, right? Start by acknowledging what you see and then calmly explaining that crayons only belong on paper. Walk your child over to your creative area and get out a paper for your child to scribble on. Once she's had a moment to make a few marks, remove the crayons. Walk back to your newly colored wall and discuss how the walls aren't for coloring, but for hanging pictures and that you can frame one of her artworks to look at….
– Frame your child's scribbles and hang them on the wall: Even though you might not think her scribbles are anything exciting, she sure does. If your child spends a good amount of time on a creation, pick up a simple frame (less than $10 at the craft store!), pop in her artwork, and display in your home. Make sure to point it out to your toddler or hang it at just above arms reach so she can stand in front of her framed artwork and appreciate it. Not only are you showing you are proud of her and her abilities, you are encouraging her to continue exploring her creativity.
So get out the crayons and start scribbling – on paper!