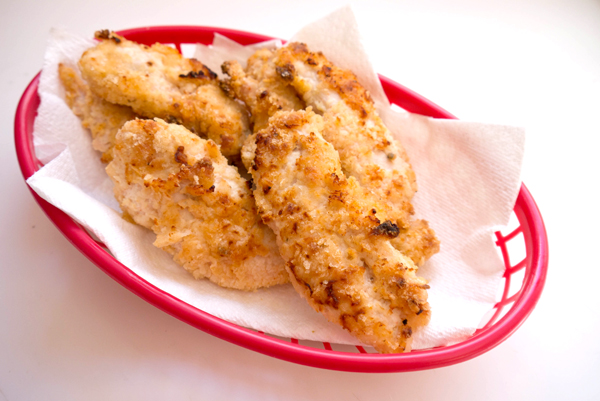 There's nothing like a go-to chicken dinner recipe and this is totally my favorite.  Along with being delicious, this chicken recipe takes hardly any time to make — and is also healthy.
Cut the fuss and muss, along with an oil-spattered kitchen, by baking these chicken tenders in a hot oven. Easily tossed together in less than 30-minutes of cooking time, these tenders are perfect for a family friendly weeknight dinner. I serve with a crisp, green salad for the adults, along with some tasty yogurt Alfredo noodles for the tot (and, yeah, for us adults too). And just a quick tip — using a really good plain yogurt (Mountain High)  ensures you get seriously tender crispy chicken along with great tangy flavor. Go with a Greek-style or thick plain yogurt for best results.
Ingredients
1 lb chicken tenders
1/2 cup plain yogurt
1 tablespoon mustard
Dash salt and pepper
1/2 cup corn starch
1 cup Panko crumbs (or plain bread crumbs)
1 teaspoon Italian seasoning
2 tablespoons sunflower oil (or vegetable or coconut…)
What you do
Toss the chicken tenders in a plastic bag along with the yogurt and mustard. Give things a dash of salt and pepper and toss in the fridge for at least 20-minutes or up to an hour. If you like things spicy, add a few drops of your favorite hot sauce.
Mix together the corn starch and panko crumbs in another big zip-top baggie. Sprinkle in the Italian seasoning and you are ready to shake. Corn starch has less calories than white flower and crisps up wonderfully. You could also use whole-wheat  or almond flour instead.
Preheat your oven to 425˚F and drizzle the oil around a sheet pan. Take the happily marinated chicken from the fridge, toss a few at a time in the corn starch/flour and panko mixture, and then place on the sheet pan. Keep going until all are coated and ready to go.
Once coated, place on the sheet pan. Try not to cluster, which causes the tenders to steam and kind of turn out like mush. For extra crispiness, place the oil-coated sheet pan in the oven for a couple of minutes before adding the tenders. They'll hit the pan with a sizzle, which is awesome.
Pop the chicken tenders in the oven and toast for 7 to 10-minutes and then flip. If your pan seems a bit dry, drizzle a bit more oil to help your chicken crisp. Cook for another 7 to 10-minutes, or until the other side is nicely browned.
This recipe makes enough to serve a happy family of four. 
*And I just made them again (1/20/14) and these tenders are still so good. A couple tips — use a non-stick baking pan, go ahead and crank the oven to 450˚F for a really crispy crust, and trust your oven! Don't fuss and muss. Let them bake for seven to 10-minutes before flipping to ensure the crust doesn't fall off and the coating is super crispy.
*Oh, and I wasn't compensated by Mountain High in any way. I just absolutely love their product.