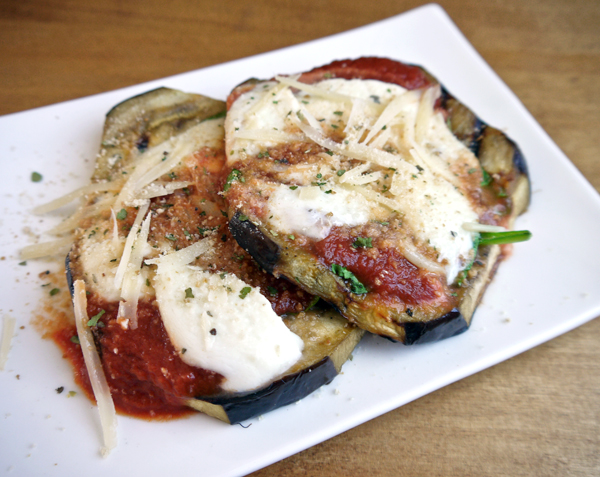 While embracing the warmer weather, I'm also excited to dust off the grill and get outdoors for making seriously flavorful dinners (without sweating in the kitchen). But my grill had other plans, and became infested with bees and spiders over the rainy season. After bombing the interior with bug sprays, several loud screams after discovering big lurking spiders, I decided an indoor grill pan would have to do for now.
I use the grill for just about everything in warmer weather. One of our family favorites is eggplant Parmesan (here, and here), and when made on the grill, it's a healthier and tastier meal. Make this vegetarian dinner over a gas or charcoal grill, or make anytime of year on a stove-top grill pan (like I did). Serve with crusty bread and a fresh salad for a delicious summer dinner.
Ingredients
1 large eggplant, sliced
1/4 cup salt
3 cups warm water
1/4 cup olive oil
1 cup tomato sauce
1 cup shredded mozzarella cheese (fresh is best)
1/4 cup shredded Parmesan cheese
1/4 cup bread crumbs
Fresh basil or spinach leaves
Directions
Slice the eggplant in rounds, cutting away the skin if desired. Fill a mixing bowl with the warm water and add the salt. Place the eggplant slices in the water and let soak for at least 20-minutes, which will remove any bitterness from the eggplant and give it a slight salty flavor.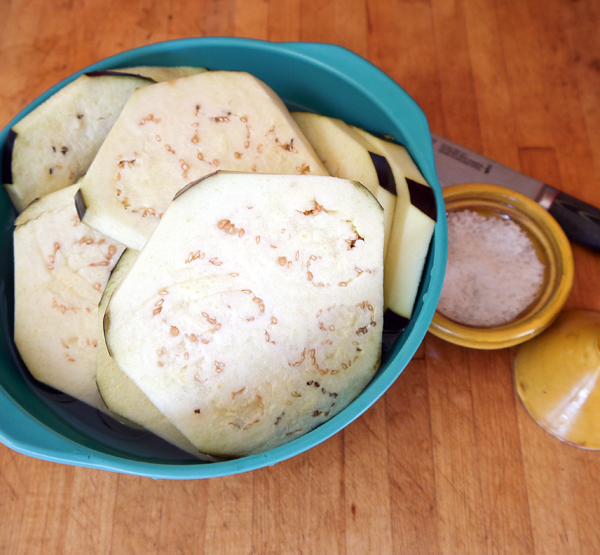 Rinse the eggplant and pat dry. Toss the rounds in olive oil and set aside.
If using a charcoal grill, crank those coals until they are nice and hot, or set your gas grill to medium-high heat. For an indoor grill pan, heat over medium-high heat, turning on both back and front burners.
Place the slices on the grill and let sear over the heat for around three minutes. Use a tongs to carefully lift the eggplant rounds and rotate 90 degrees. Let cook for another three minutes.
Flip the rounds and let grill for three minutes. Now flip again and rotate 90 degrees. Let the eggplant hang out for a few minutes until the it is fork tender.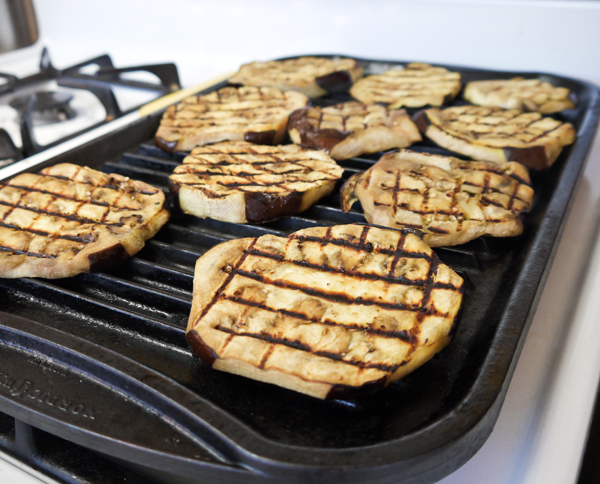 Gather your favorite tomato sauce, sliced fresh mozzarella, and fresh spinach or basil leaves. Top each eggplant round with a spinach or basil leaf, a hearty spoonful of tomato sauce, and a slice of cheese. Grill until the cheese is bubbly.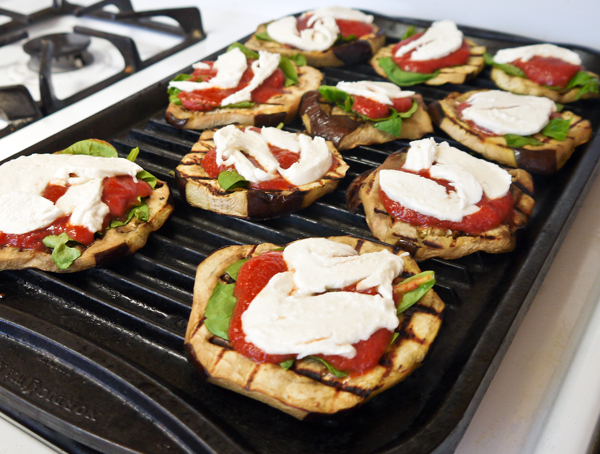 Sprinkle the tops with freshly shredded Parmesan cheese and the breadcrumbs, and grill for another few minutes.
Yum.