In celebration of National Pi Day, which falls on March 14th, why not celebrate with the kind you can eat – pie from Marie Callender's! I love pie, and realized my tot hasn't experienced the wonders of slicing a fresh piece from a perfectly round perfection. And because Pi is all about numbers, I figured this was the perfect opportunity to learn about basic math while eating something delicious. And sweet pies from Marie Callender's are made from real ingredients. Really. I had my eye on a chocolate satin mini pie, which was the perfect size for the delicious math activity I had in mind. And if you're looking for other party ideas, recipes, or how-to's, check out Marie Callender's blog.
First I placed the pie on a plate and we had a quick discussion about the shape of the pie. We determined it was round, that it was composed of three layers, and had tons of sprinkles on it. Just for fun we tried to count them all.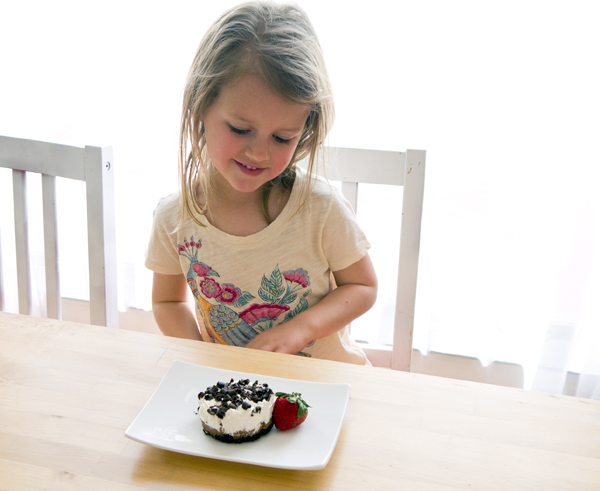 Now I offered my daughter a knife and asked her if she could cut the pie in half. At first she wasn't sure what to do, and then we talked about making two "sides" to the pie. This is a great age for introducing how shapes can change, encouraging budding reasoning and math skills. And letting your child do the cutting is also beneficial for fine motor skills.
After we counted both sides, and my daughter gave the knife a quick lick, we then discussed how to make those two sections into four triangles. This created a bit of heated discussion, as she was already pretty ready to eat that delicious pie! We talked about what triangles look like and how to make four of them. After a bit of thinking, she picked up the knife and made another cut.
Now we counted the triangles just to make sure there were four and remembered how we got there from the original circle.
And then it was time to eat the pie from Marie Callender's! I enjoyed a few bites, but let my daughter savor the sweetness.
She even licked the plate.
So if you'd like to celebrate National Pi Day with a pie from Marie Callender's here's a coupon for $1.50 off a Marie Callender's frozen pie that you can print and happily take to your nearest grocery store. Feel free to hop over to Marie Callender's website to rate or review your pie.
I was selected for this opportunity as a member of Clever Girls Collective, and the content and opinions expressed here are all my own.