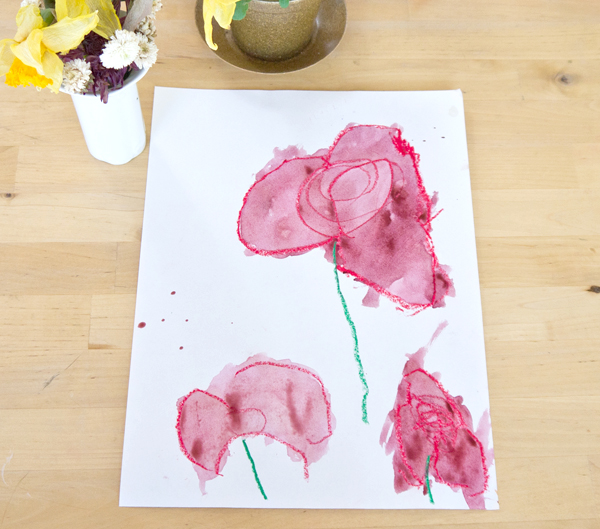 At some point your tot's scribbles turn into something more. They aren't totally random loops and marks that mix together into a crazed collection of who knows what. My daughter just turned four and she's finally making the progression into the preschematic stage of art. Emerging from that scribbling during her first few years of art creation are forms, somewhat realistic images, and stuff that actually makes sense when she tells me about her pictures. Yes, there are still going to be delicate moments when you have no idea what is on your child's paper, but, before you know it, she'll be seriously focused on details and recreating what she sees around her, also known as the schematic stage of art — or the "dramatic" stage of art. Kids sometimes get a bit frustrated during this time in their budding lives when things don't turn out exactly how they would like it. But that is a post for the future.
The minute my daughter started actually drawing stuff, I new it was time to offer her lots of praise and encourage her creativity without any judgement. This is an exciting time for little ones, and allowing for exploration is essential. Instead of trying to corral the new talent, take a step back, asking questions later. Leading art activities offers your child new ways of looking at creating, but remember to keep your hands off — and your comments to yourself. I remember a kindergarten student of the past whom had spent a whole class period drawing a picture of a vase of flowers, very loosely based on a Van Gough art lesson. He was so excited about his very colorful collection of buds at the end of the lesson. Sure, there wasn't much there other than several random circles and lots and lots of green and brown vertical lines, but he was PROUD of it. While beaming and showing it to his classroom teacher at the end of art class, she commented that it "needed a bit of work," and that, "maybe next time it would turn out better."
I was crushed.
I'm sure he was too.
This is a precious time for little kids, and most hit this sweet spot around three to four years of age. This creative stage of art lasts until kids turn seven, or even eight, or nine. There's no definite timeline, and each kid is different. But it's a great opportunity to do some encouraging preschematic art activities with your child that will hone her budding skills while giving her the opportunity to be creative.
One of my favorites is drawing flowers in a vase. We happened to have several bouquets around the house that were ready for the trash. I popped a few blossoms in a small vase alongside a small potted plant for inspiration. Then I offered my tot a selection of oil pastels. Using oil pastels instead of crayons allows your child to explore using something other than crayons or markers, and they make really vivid dark lines that work perfect for the next step. Without offering your child too much direction, talk about the parts of the flower and what shapes they resemble, while encouraging your child to just draw the outlines of the flowers.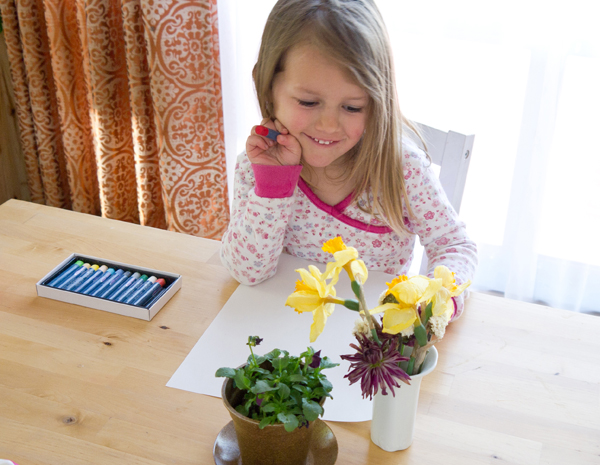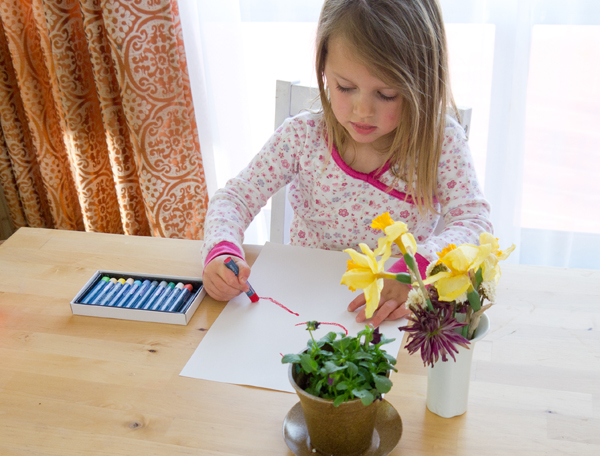 Once your little one is happy with her flowers (and vase if she's interested), swap the oil pastels for watercolor paints. If your child is still getting used to dipping and painting, run a drizzle of water over the paints, which will wet them slightly, making it easier to paint. Now your child can start painting the flowers, staying in — or out — of the lines. Let your child make the decisions when selecting the colors for the flowers, if there's a background, or any other details for finishing the painting.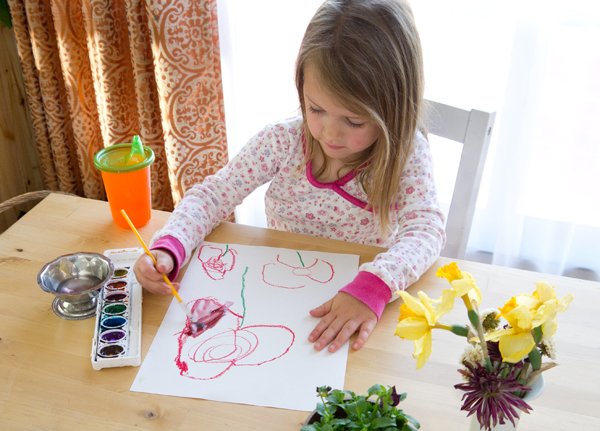 When your child is finished, ask her if she would like to tell you anything about her creation. Hey, she might just tell you that it's a vase of pretty flowers. But if she goes into detail, take a few notes and later, once the paint has dried, you can write all the special things she had to say on the back of her artwork.
Find the perfect spot to display your child's artwork so she knows you think she's a fantastic artist.