I love cooking with my tot and have been exploring the wonders of the kitchen with her by my side for quite some time now. But there are times that I would love for her to get out of my kitchen and do some pretend cooking on her own. But the other day, when she was insistent on making some sort of treat, I caved. Well, yeah, I kinda wanted some sort of treat too.
We didn't have much for tossing together something super sweet, but did have a few basics that, once expertly mixed together by my tot, would be just fine. And I've discovered that it doesn't really matter what we make, or how it tastes, she usually eats it if she made it. There are a few things I've learned from inviting my youngster into the kitchen:
-The first, and most important, is to NOT worry about the mess. Really. You've got to let it go. By containing the potential disaster, you're able to make clean up less time consuming. I try to have all ingredients, mixing spoons, bowls, measuring cups and spoons, and damp paper towels at the ready so I don't have to leave my tot while she's mixing.
-It's probably not going to taste amazing. Even if you measure everything exactly, when cooking with kids, stuff just happens. Your tot may give the salt shaker an extra sprinkle, the oil may be drizzled too long, or something may be forgotten in the chaos. Guess what? Your kid won't care — she's excited about the process, and doing some actual cooking. So try not to wrinkle up your nose and dig in, which will show your child that you are impressed with her budding culinary skills.
-Keep it simple. Please. Now is not the time to try making perfectly cooked macaroons or something you've never attempted before. Stick with things you're comfortable cooking and baking so your little one isn't overwhelmed with the idea of getting in the kitchen.
We made these super easy and wonderfully adjustable peanut butter cookies the other day, and not only are they tasty, they are healthy. So grab your little one and get in the kitchen!
Ingredients
1 cup peanut butter
2 tablespoons honey
1/4 cup sugar
1 tablespoon butter
1 teaspoon vanilla
1 egg
1 cup oats
1/4 teaspoon baking soda
1/2 teaspoon baking powder
Dash of salt
1 cup flour
(You could add chocolate chips, a dash of cinnamon, raisins……)
Directions
Preheat your oven to 350˚F.
It's as easy as helping your child measure and add the ingredients as they are listed to a mixing bowl. Our rule is that there is no taste testing after the egg has been added to any recipe, and to HOLD the BOWL while stirring. I try to stand back and let her at it. Yes, sometimes I need to give a helping hand when measuring and adding ingredients, but letting your child figure it out makes cooking together really special.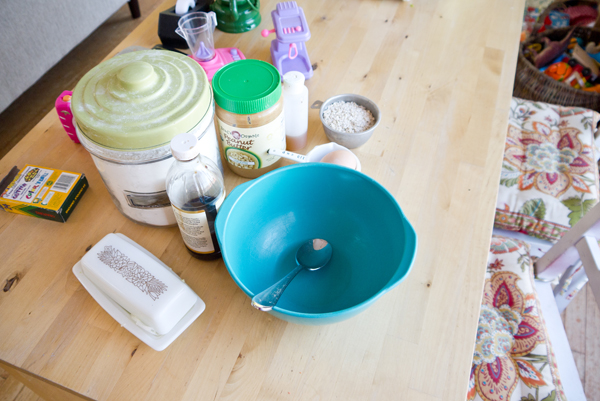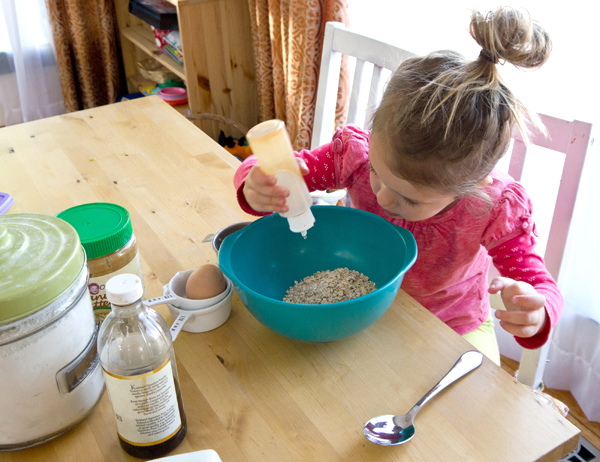 The dough holds together really well, making it perfect for rolling in balls and then pressing flat with your fingers, which is why we decided to call them finger cookies.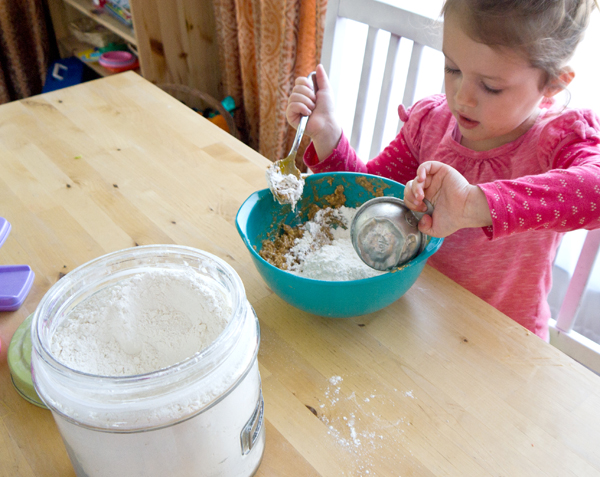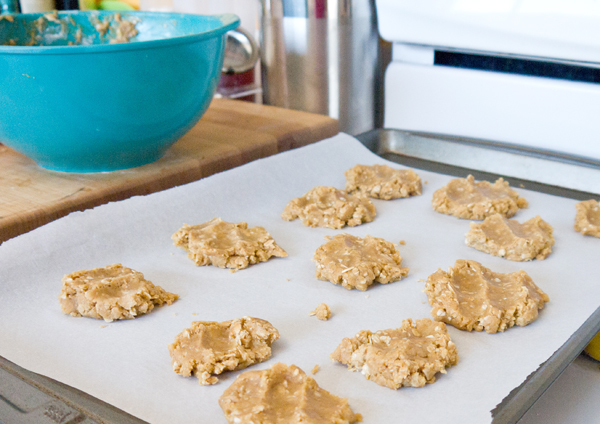 For extra sweetness, sprinkle the tops of the cookies with sugar or drizzle with a bit more honey. Pop in the hot oven for 12 minutes, let cool, and enjoy.
What's your favorite kid-friendly recipe? Leave a link in the comments below!