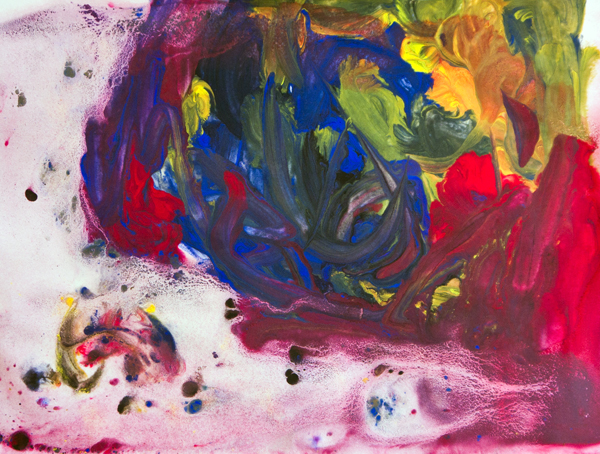 It was a bit rainy here the other day, making it the perfect opportunity for a messy art activity. Because the rain was washing down around us, I decided a wet and wonderful painting was a good idea. We've already poured paint with Helen Frankenthaler, so I was on the hunt for a fresh artist to share with the tot. Then I remember Sam Francis and his dripped, splotched, and flicked paintings that he created on canvases. After getting out our handy art book, I located his painting, Around the Blues, 1957/62, and we had a great time checking out all the shades of blue and other colors that were mixed in. And my tot had several interesting ideas on what the painting was depicting — a ring of flowers, a couple of elephants, or, wait, maybe that's just a bunch of blobs.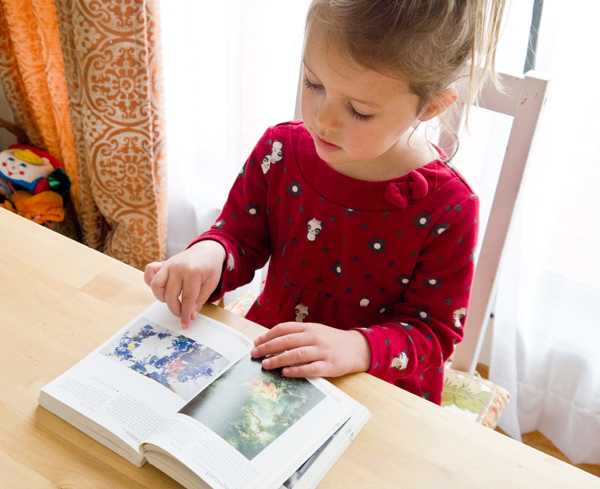 A celebrated American painter from California, Francis explored painting after being injured during World War II, studying art at Berkeley. Influenced by abstract expressionists such as Mark Rothko, Francis' works are bright, vibrant, full of moving line and washed colors, similar in style with the Color Field movement.
After selecting colors of tempera paint we found in Francis' painting, I got out an old baking tray and a sheet of white drawing paper. This is a really fun art activity for little ones and older kids, but things can get messy. Thus, the baking tray. Run the white paper under running water and then place in the baking pan. Once the paper is wet, it becomes the base for this art activity. Adding paint to a wet work surface is an art technique call a "wash,"  which creates a smooth or washed out look.
Now squeeze a dab of each color of paint on a folded sheet of paper towel, offer your child a few paintbrushes, and invite her to dab the paper with the paint, watching as it moves and blends with the water. Older kids can experiment with creating abstract forms while younger tots can explore color theory — and simply making a colorful mess.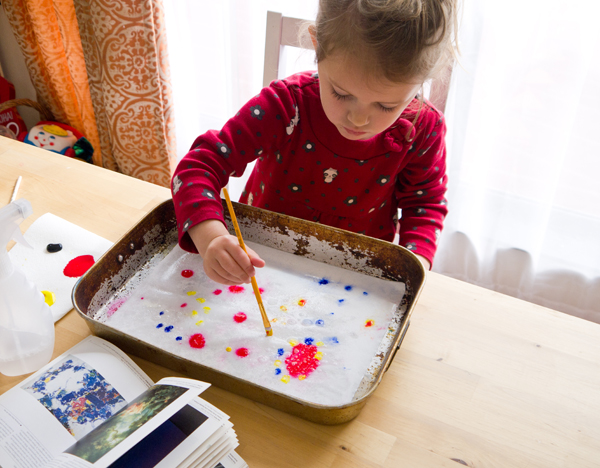 Offer your child a spray bottle filled with fresh water to spritz the paper when it starts to dry out. Squeezing that spray bottle also does wonders for budding fine motor skills.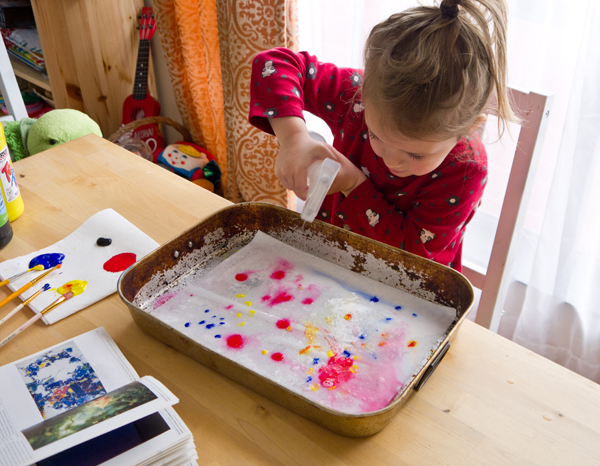 Encourage your child to tilt and move the tray, watching as the paint swirls and washes with the other colors on the paper.
Now your child can continue painting, spraying, and tilting the paper until she's happy with her finished creations. And if you're feeling really creative, encourage your little one to drip or gently splatter the paint to add extra texture and detail to the artwork. Maybe take things outdoors for this step if the weather is cooperating… We skipped the splattering due to the rain.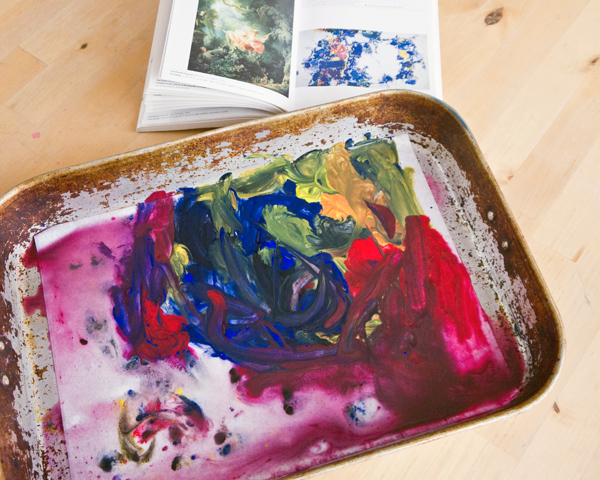 Once the finished Sam Francis' influenced creation is finished, find the perfect spot for displaying the artwork. We find the fridge to be the perfect spot for our constantly evolving art show.