Valentine's Day is this week and there's no denying that along with the giving and receiving of hundreds of cheesy and impersonal cards, lots of lovebirds are heading out for special dinners, giving small blingy tokens of appreciation, and trying to figure out last minute ways to show some love. What I find absolutely and  wonderfully sexy is a great homemade breakfast that you can eat in the comfort of your own home (especially now that I've got a small thing running amok in the house as early as 6 am). The idea of eating a velvety, luxurious breakfast on a special morning (Valentine's Day, Mother's Day, Birthday, Christmas, Child's Birthday, Saturday…) is the perfect way of showing true adoration.
My husband is known to toss together amazing slow-cooked scrambled eggs that melt in your mouth.
Delicious.
And, thus, why he is my husband.
But this Valentine's Day, I had plans for making a special breakfast that would  fill my sweetheart's tummy with savory goodness. And the Shine Supper Club's challenge this month is all about sharing sexy dishes, making this breakfast recipe wonderfully fitting.
Breakfast pizza.
Crisp crust topped with thinly sliced prosciutto, slivers of fresh Parmesan, and topped with soft eggs that spill and run all over the whole shebang. How perfect is that? And you can use store purchased pizza dough, which makes this recipe wonderfully easy for any home chef.
Ingredients
Pizza dough (homemade or store bought)
1/2 cup freshly grated Parmesan cheese
1/2 cup freshly grated mozzarella cheese
1/8 pound thinly sliced prosciutto
Fresh spinach leaves
1/2 teaspoon olive oil
1/4 teaspoon Italian seasoning
4 eggs
Fresh cracked pepper
Directions
Preheat your oven to 425F so it's really hot when you're ready. Having your oven temperature just right ensures those eggs will set properly on the breakfast pizza.
Lightly grease your pizza pan and then press out the dough to create a nice even thickness. Top with the olive oil, Italian seasoning, and the spinach leaves.
Now layer on the prosciutto and sprinkle half of the shredded cheeses over the pizza. Carefully crack and add the eggs to the pizza and then toss the rest of the cheese over the eggs.
Carefully place in the hot oven for 10 to 13-minutes, or until the eggs are just set.
Give the finished pizza a light covering of fresh cracked pepper, slice, and serve alongside fresh strawberries, hot coffee, a big kiss, and you've got the perfect sexy breakfast. And the longer you let the pizza sit before cutting, the eggs will set to your liking.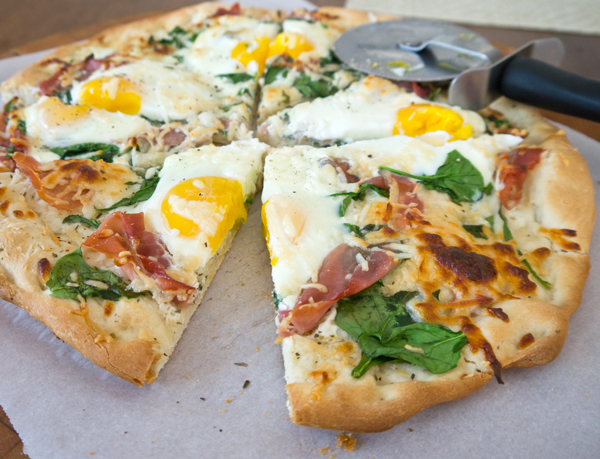 *Just so you know, this recipe is also wonderfully delicious as a late-night snack…