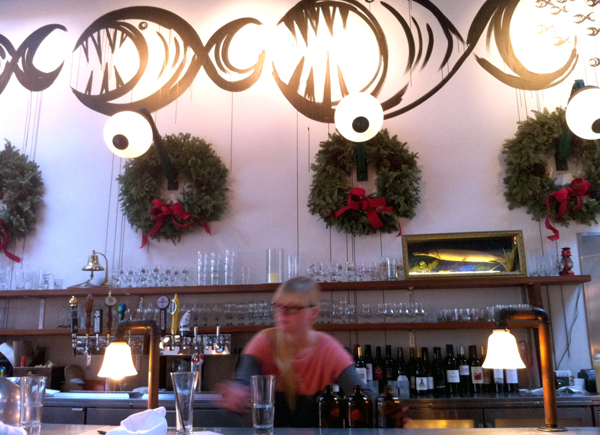 Yesterday we were treated to a holiday lunch at the Anchor & Hope by some wonderful friends. My husband's known this couple for almost 20 years, and has been working with his buddy for over 10. It was a true treat for us to drop the tot off at preschool and then head into the city for this special gathering, and I was looking forward to a tasty lunch (and maybe a mid-day glass of wine — total indulgence!).
Known for their tasty fish dishes, the restaurant is tucked on Minna street and has an ample seating area and a bar for patrons. We had a noon reservation, and when we got there (after struggling to find parking!) the place was packed. Before I even had a moment to look at the menu, a beautiful selection of oysters, perfectly poached shrimp, fresh clams, crab and lobster salad, and a variety of house sauces was placed on our table.
Wowsa.
From here we sampled more delicious oysters and also sipped an amazing bottle (or two) of wine.
While watching the food come out of the kitchen it looked like the lobster roll sandwich was the thing to order, and our party ordered their share — along with the seared salmon sandwich (which I ordered).
Then it was time for coffee and dessert, which was also absolutely delicious. In fact the cup of coffee that my husband ordered (that I sipped too) was one of the best cups of coffee I've had ever.
But the best thing about our lunch was the amazing service. Our waiter was wonderfully attentive without being overbearing and the rest of the staff filled water glasses and removed plates like silent serving ninjas, making us feel like we were the only table in the place, which we weren't. The place was packed, and from the smiling and approving faces seen around the restaurant, everyone else was having an awesome time too.
While checking out the dinner menu, which wasn't much different than the lunch offerings, I had no doubt that the restaurant would be packed again in only a few hours with patrons that would continue streaming in until closing. But, I would suggest hitting Anchor & Hope for lunch — with a reservation of course. You can sit and enjoy a leisurely mid-day meal, without feeling rushed, and not bust the bank. Sandwiches run around $15 to $24, with lunch entrees over $18. And you have to order a few oysters (starting at $2 each), which are shucked perfectly and seriously tasty.
Plan on parking at the garage on Howard and 2nd (which ran us $9) and metered parking is free after 6pm and on Sundays. You'll love the energy of the restaurant, the fantastic staff, and the sensational fish.