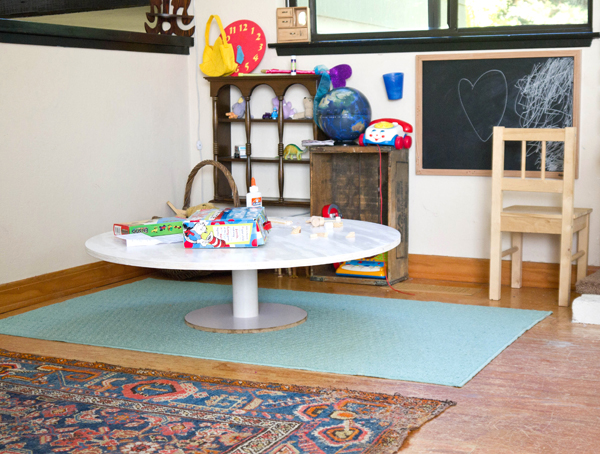 We have this spot at the top of the stairs on the side of our living room. It's a "spot" we have no idea what to do with. It isn't really part of the living room, not big enough to do much with, and has been the home to several different things, including a large plant, small bench, and mini pool table — all of which just sat there doing not much of anything.
I was getting really tired of just looking at that empty corner and watching it become home to a happy family of daddy-long-legs.
I was also getting a bit tired of the tot's toys ALL OVER THE PLACE.
She needed a solution. I needed something. We talked about getting a toy chest (I had visions of pinched fingers), we dreamed of putting together a built-in bookshelf-slash-seating area (I had visions of power tool mishaps), and we chatted about buying furniture (and I had visions of lots and lots of fighting). So the corner sat deserted, the cat turned the mini-pool table into her new favorite lounging spot, and I kept vacuuming up the spiders.
While at O.S.H. picking up who knows what, I spied round cuts of plywood and knew I had to make a play table. But how to make it cool… Then we spied the big spools used for holding rope and I batted my eyes and inquired if we could have an old one. It was my lucky day and we headed home with the round and a spool.
After a nice sanding, and a coating of white stain, the husband took over and screwed the spool to the round and we had a table. I had plans for adding another round base to make the table sturdier, and to touch up the paint, but the tot had other plans. She got busy working the minute it was brought into the house.
Once she was tucked in for the night, I added a few other cute items around her area so she'd stay interested for more than a few days. On the other side of the play corner is our entry way buffet (that houses a bunch of the hub's old CD's) that will be cleared out for her toys so the area is comfortable for her to play and stay organized — and I'll be able to slide the doors so they will magically disappear.
So for less than $20, we reinvented a spool into a fun play table that will hopefully be used for years and years.