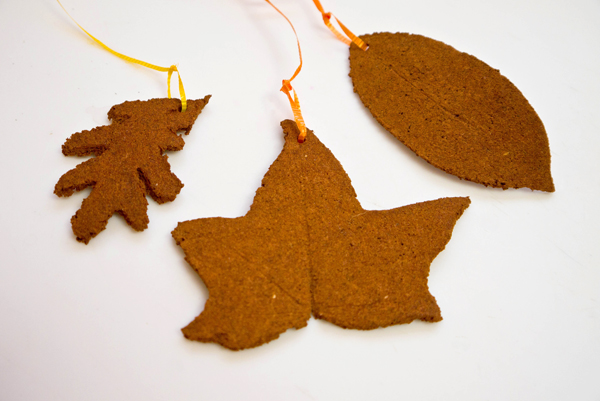 There's nothing like the smell of fall, with its rich earthy smell of fallen leaves, a waft of something good baking  from someone's kitchen, and the scent of cooler air. We are smack-dab in the beginning of our Northern California fall, which usually means some of the nicest weather we've seen all summer. With temperatures wonderfully in the upper 80's — or even hotter, it sure doesn't seem like autumn at all.
To get in the spirit the tot and I rolled out some scented dough for making fall leaves that will fill even a hot house with the smells of fall. And by using fallen leaves from around the house to create the indentions, these fall leaf lovelies look wonderful hanging in a window or anywhere in your home.
Ingredients
1/2 cup cinnamon
1 teaspoon cloves
1/4 cup glue
3/4 cup applesauce
Directions
It's as simple as mixing all the ingredients together. And even though you think they won't form a dough, sure enough one forms. Cover and let rest in your fridge before rolling.
I rolled mine on one of the placemats I made the other day that have also turned into awesome project mats. If you don't have a placemat, rolling on a length of parchment paper on your kitchen counter works wonderfully too. Go ahead and sprinkle the dough with flour if it seems too sticky. I covered my heavenly scented dough with a layer of plastic wrap and then rolled until about 1/4 inch thick. If you've got a tot that's handy with a roller, she can help create a nice, level round.
Then we placed our leaves all over the place and rolled over the top. After removing the leaves, I used a big craft needle to trace around the edges and pop a hole at one end. Older kids can use a sharp pencil or the craft needle (with adult supervision) to do this step. Don't worry about peeling the leaves from the placemat, just find a nice spot for them to dry out where they won't be poked and squished by little fingers.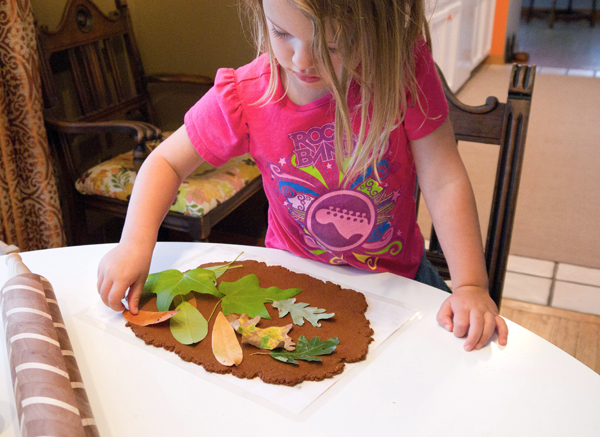 (OH – and these are NOT cookies. I had a bit of an issue explaining that to the tot, which was the only downfall of making these with a three-year-old.)
Let the leaves hang out overnight or place in the sun until they are dry. Now you can peel from the placemat and string with a length of colorful ribbon or string. Find the perfect spot for your scented fall leaf lovelies and enjoy the smell of autumn.