This post is sponsored by GapKids. Check out all the fun Shine On activities at your nearest Gap store. For event dates and locations, visit Gap's Facebook page and join the conversation on Twitter with hashtag #ShineOn.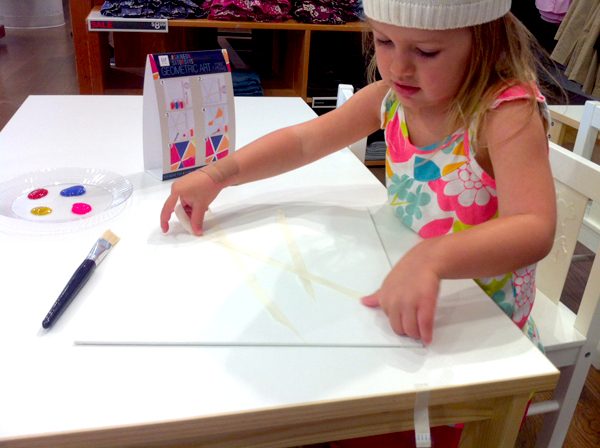 Remember how I told you about how GapKids was holding special Shine on Saturdays activities across the country? Well we had an awesome time at the event, which took place at my local mall (The Village at Corte Madera) last weekend. As an art teacher, I'll be honest, I wasn't sure what to expect. The idea of doing any sort of art activity in the middle of a clothing store, where the clothes were for sale, seemed a bit insane — especially if the art activity included paint! So when I walked in and saw a smiling helper in front of a table full of paint, I couldn't wait to see what happened.
Keep reading to find out….
First things first, the activity was organized. All the itty-bitty tot tables were ready for action with displays showing the steps for creating the art work. Helpers were smiling, friendly, and seriously welcoming. I was walked through the store by a greater to the project area and then an assistant totally took over with my tot and asked her what colors she wanted to use for her creation. We got a plate of paint, a canvas board, and found a seat.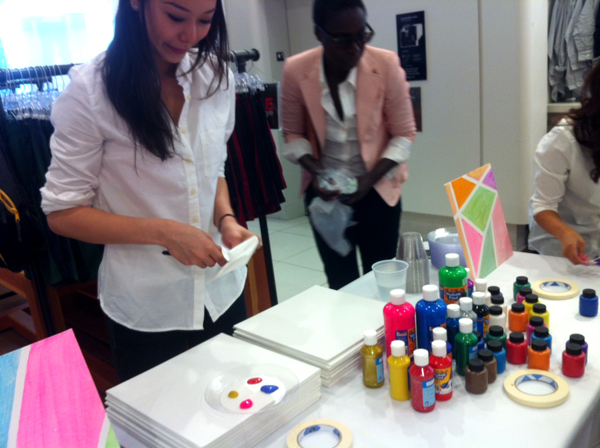 My tot, who is in LOVE with tape at the moment, got busy tearing strips of tape, pressing them into an interesting design, and then slathering with tons of paint. The theme was to create a geometric art work with fun angles and lines. The adorable little girl next to us was really into staying in the lines, the wee tot  behind us was busy finger painting, and the rest of the tables were buzzing with other kids enjoying the activity. Several helpers were moving from table to table offering compliments as well as encouragements — and paper towels when needed. (And, YES, my daughter picked her outfit — and was insistent on wearing it — to do the "special art stuff with mama.")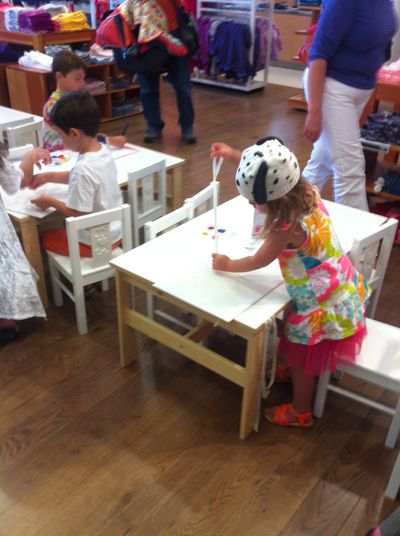 I was amazed.
It was so awesome seeing kids having such a fantastic time being creative. Parents were chatting and mingling, kids weren't running amuck with paint-filled brushes, and there was a line of smiling parents (and kids) patiently waiting their turn.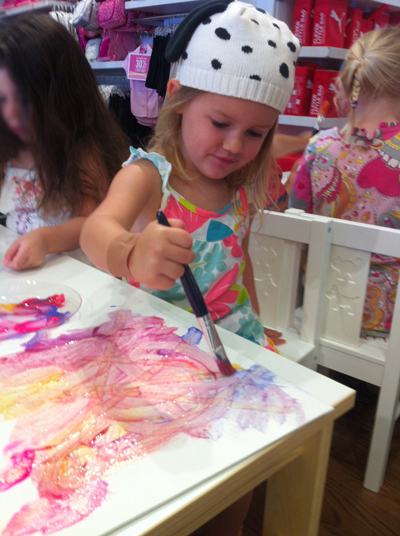 After my tot was finished, we said a big THANK YOU to all the helpers and took our painting home. Later in the day we peeled away the tape to check out the finished creation.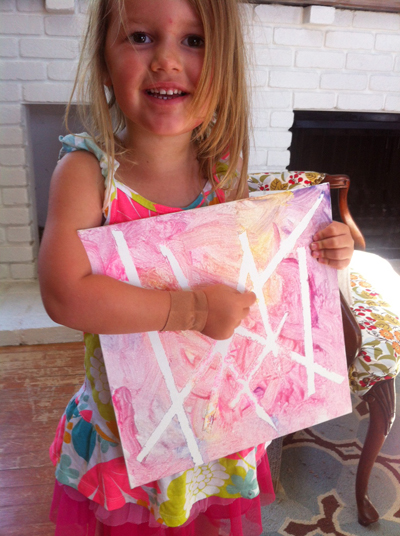 If you are anywhere near one of the next locations around San Francisco, you should go check it out!
Saturday, August 18
10 am -1 pm
GapKids @ University
35 University Ave.
Los Gatos, CA  95030
Saturday, August 25
10 am – 1 pm
GapKids @ Broadway Plaza
1139 S. Main St.
Walnut Creek, CA  94596
I was selected for this opportunity as a member of Clever Girls Collective, and the content and opinions expressed here are all my own.