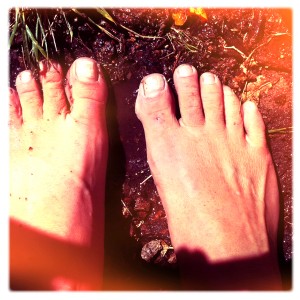 When you have a toddler, you don't get much down time. Heck, when you have kids you don't get much down time (except when you're sleeping). Things you used to take for granted like showering, grocery shopping, using an ATM, putting gas in the car, become a battle. Sometimes finding a moment of "me-time" is almost impossible.
Along with lacking some pretty serious alone time, I'm first to admit that I'm still rocking some natty clothes and my skin isn't glowing at all. The few-and-far between quiet moments I do happen to miraculously get are filled with doing those things that are challenging with my toddler (like going to the bank, the grocery store she doesn't like (but I do), and showering!).
Showering is one of those things that's hit and miss. Either it works – and when it does it's awesome – or it goes horridly wrong. For me to grab a quick shower, the tot's favorite show has to be on, she needs some sort of food item to enjoy, the bathroom door has to be left open – as well as the shower curtain. Yeah, not really relaxing or successful. Sometimes I don't even get to wash the shampoo out of my hair before some sort of drama unfolds (mainly toddler needing to poop, which seems to happen every time I am in the midst of shaving my legs or lathering that shampoo).
Okay, okay, here's the deal. I had the chance to take one of the new premium body washes from Dove for a spin this last week. This meant I needed to blissfully shower for a week (YES, every day) to see if the stuff really works. I enlisted the husband to be on toddler watch for 10-minutes before heading to work so I could jump in and lather up without distraction – and it was THE BEST.
This body wash contains the greatest concentration of NutriumMoisture technology in Dove's collection, and with three kinds, you can't go wrong. I found that the Softening Body Wash totally delivers on its touts of being able to deliver softer skin with less dry spots in just a week. Just after one use, my husband noted how I looked nice. Summer means swimsuits and I need all the help I can get.
I'll be honest, the body wash's scent isn't heavenly. It's not like this stuff smells bad, but it's definitely not blissful. With an almost generic lotion kind of smell, I found a spritz of lavender oil to help compliment my newly soft skin. Even my feet were nice and soft, ready to enjoy playing in the mud with the tot!
Head on over to the Dove website for more information and to enter for your chance to win free product and a $500 spa experience – or simply follow the directions listed below!
*Yes, I was provided with a sample of Softening Body Wash as well as compensated for this review but the opinions are all mine.
Visit Dove® VisibleCare® to get a coupon for $1 off!
Enter to win one of two $500 Spafinder gift certificates!
NO PURCHASE NECESSARY
COMMENTS TO THIS POST ARE NOT SWEEPSTAKES ENTRIES. PLEASE SEE BELOW FOR ENTRY METHODS FOR THIS SWEEPSTAKES.
You may receive (2) total entries by selecting from the following entry methods:
a) Follow this link, and provide your email address and your response to the Promotion prompt
b) Tweet (public message) about this promotion; including exactly the following unique term in your tweet message: "#SweepstakesEntry"; and then visit this link to provide your email address and the URL to that Tweet.
c) Blog about this promotion, including a disclosure that you are receiving a sweepstakes entry in exchange for writing the blog post, and then visit this link to provide your email address and the URL to that post.
This giveaway is open to US Residents age
18 or older. Winners will be selected via random draw, and will be notified by e-mail. Winners will have 72 hours to claim the prize, or an alternative winner will be selected.
The Official Rules are available here.
This sweepstakes runs from 7/18/2012 – 8/22/2012
Be sure to visit the Dove® VisibleCare™ Crème Body Wash brand page on BlogHer.com where you can read other bloggers' reviews and find more chances to win!