This is such a simple project with fun – and educational – results. Along with honing fine-motor skills, it also encourages color recognition. Toddlers love getting messy – and finger paint doesn't disappoint. Combining stickers and finger paint also creates a multi-step activity, which also helps tots learn how to wait and follow directions. This doesn't mean that things are going to go smoothly – plan for chaos by having wet-wipes or a few damp paper towels handy and donning your tot in a smock or okay-for-mess clothing.
Finger painting is an exciting way to introduce color theory through mixing paints. Most toddlers are on their way to mastering color recognition, which means it's time for the next step. Using two colors keeps things from turning into a big brownish-grey mess o' paint. Most tots are also still in the scribble stage and getting pretty comfortable using pencils, crayons, and markers to draw, draw, draw.  This activity encourages kids to use the entire paper, focusing on the big picture, and use something exciting (fingers!) to make those big scribbles.
Start by taping a sheet of white drawing paper to your work area or on a plastic place mat. Offer your toddler a selection of stickers to peel and stick to the paper. We used a combination of puffy stickers as well as regular stickers to mix things up and add to the fun textural feel when finger painting.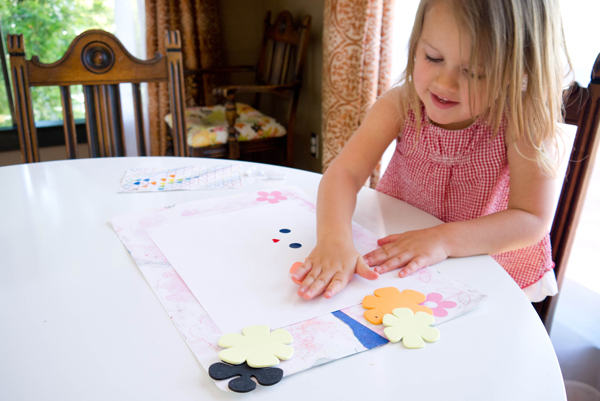 Once your tot has finished stickering, place about a tablespoon of one color of finger paint on the paper. Encourage your child to spread that finger paint all over the paper until it is completely covered.
Now add a small dollop of another color of finger paint for your child to mix with the first color observing what color is created. See if your child can figure it out all on her own!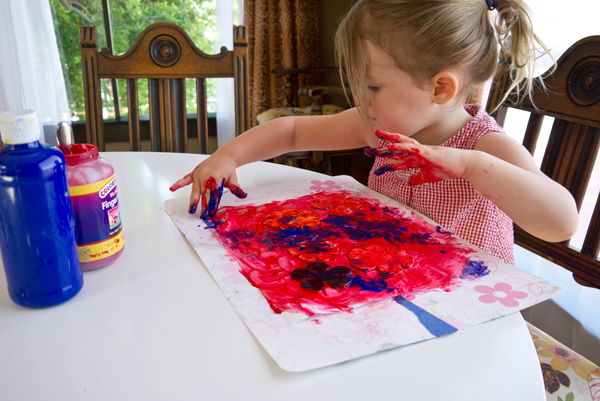 Let the finger paint dry and then invite your child to peel the stickers from the paper revealing the white paper underneath. Removing the stickers takes focus and concentration – as well use of those fine-motor skills!
Hang the finished sticker finger paint creation on the fridge for all to see.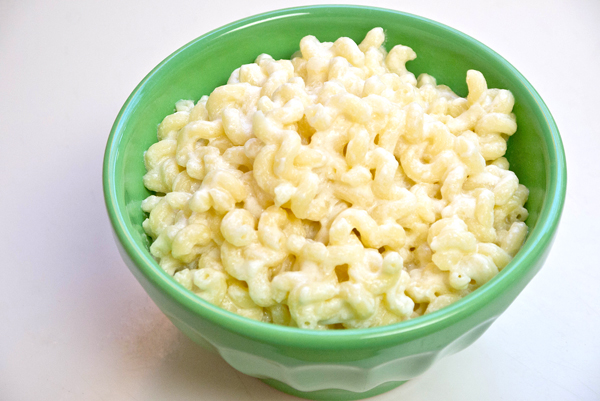 I love Alfredo sauce. All that cream and butter smoothed lusciously together and then slathered on pasta – yum. What I'm not so in love with is all that cream and butter and cream and more butter. I love pasta but am also trying to switch our sides to healthier salads or bean concoctions. Amazingly, the tot inspired this recipe. The other day I boiled up some noodles to serve plain with a drizzle of good olive oil, roasted garlic and fresh herbs when she spied the yogurt in the fridge. She insisted on having yogurt with her pasta, which kind of sounded a bit icky to me. But, whatever makes her happy, right?
By the end of dinner, curiosity got the best of me and I snatched a forkful of her yogurt pasta. And, surprisingly, it was good. Sure, it needed tweaking, but it was creamy, tasty, and healthy.
This is a super easy way to liven up pasta – without all that cream and butter. You can add flavors your family loves, or leave it plain and simple. Use a thick, Greek-style yogurt for making this light Alfredo sauce.
Ingredients
1 lb. pasta cooked (whatever shape you like)
1 clove garlic, chopped
1 tablespoon butter
1 cup plain yogurt
1/4 cup shredded Parmesan cheese
1/4 cup milk
1/4 teaspoon salt
Dash of pepper and dried oregano
Directions
Boil your pasta until tender and drain. In the same pot, melt the butter along with the chopped garlic until the edges just start to brown. Add the pasta back to the pot and stir to coat.
Turn the heat to low and add the salt, yogurt, and milk. Give things a gentle stir until the yogurt has melted into the pasta.
Now turn the heat off and add the grated Parmesan cheese. Mix things together, do a taste test, and adjust seasoning as needed. If you like creamier pasta, add a splash more milk. Want more cheese? Sprinkle some over the top of the pasta before serving.
Enjoy!
While camping at Hendy Woods last weekend we made a visit to one of our favorite places – Philo Apple Farm. Along with making amazing apple stuff (vinegar, juice, cider, jams…) there's a path you are welcome to stroll that takes you around the property. While you meander through the beautiful farm you stumble upon chickens, horses, pigs, and views, views, views. The farm produces Biodynamic heirloom apples, offers cooking classes, and even rents quaint cottages tucked within the property. This place is just magical – and a must stop if you are in the Anderson Valley area. On a side note, Hendy Woods is one of the California State Parks that is slated for closure due to budget cuts. Do your part to keep them open by pledging to defend our parks!