This is such a simple project with fun – and educational – results. Along with honing fine-motor skills, it also encourages color recognition. Toddlers love getting messy – and finger paint doesn't disappoint. Combining stickers and finger paint also creates a multi-step activity, which also helps tots learn how to wait and follow directions. This doesn't mean that things are going to go smoothly – plan for chaos by having wet-wipes or a few damp paper towels handy and donning your tot in a smock or okay-for-mess clothing.
Finger painting is an exciting way to introduce color theory through mixing paints. Most toddlers are on their way to mastering color recognition, which means it's time for the next step. Using two colors keeps things from turning into a big brownish-grey mess o' paint. Most tots are also still in the scribble stage and getting pretty comfortable using pencils, crayons, and markers to draw, draw, draw.  This activity encourages kids to use the entire paper, focusing on the big picture, and use something exciting (fingers!) to make those big scribbles.
Start by taping a sheet of white drawing paper to your work area or on a plastic place mat. Offer your toddler a selection of stickers to peel and stick to the paper. We used a combination of puffy stickers as well as regular stickers to mix things up and add to the fun textural feel when finger painting.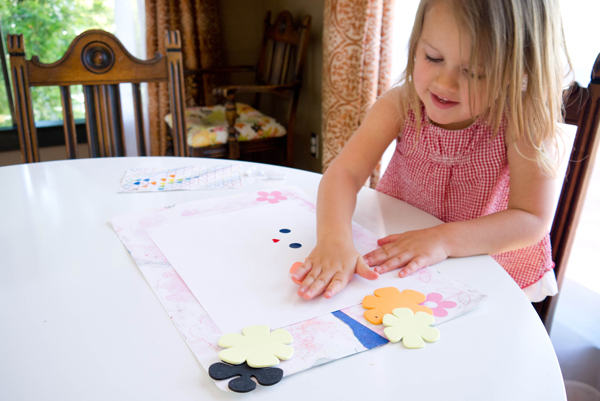 Once your tot has finished stickering, place about a tablespoon of one color of finger paint on the paper. Encourage your child to spread that finger paint all over the paper until it is completely covered.
Now add a small dollop of another color of finger paint for your child to mix with the first color observing what color is created. See if your child can figure it out all on her own!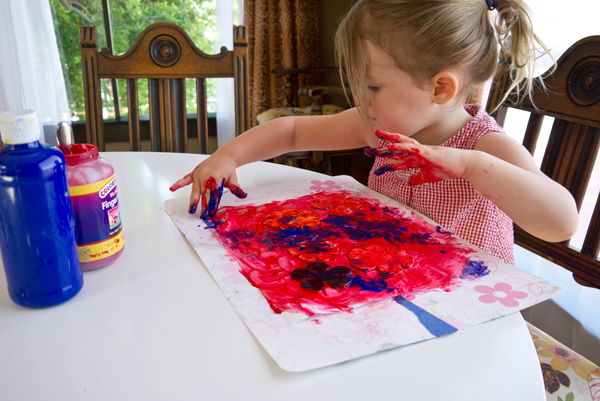 Let the finger paint dry and then invite your child to peel the stickers from the paper revealing the white paper underneath. Removing the stickers takes focus and concentration – as well use of those fine-motor skills!
Hang the finished sticker finger paint creation on the fridge for all to see.
One Response
Thank you so much for this idea! My 3 year old daughter had such a great time cttniug apart turkey stickers and other Thanksgiving stickers, and she hasn't been very interested in any other cttniug activities I have suggested before. She asked twice to to more! And she extended the activity herself by trimming around the stickers…much more complicated than anything I thought she could do at this point! She wanted to use the cut-outs to decorate our table for Thanksgiving…like confetti. So fun! Thanks!