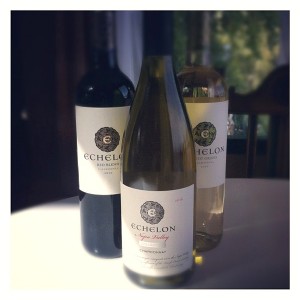 This week was full of ups and downs. The tot and I had a few disagreements (but what's new, right?), a couple of things changed with my work stuff, and the cats continued being cats and waking me up the minute they saw the sun. But, there was one wonderfully, shining moment early in the week – the moment an actually somewhat-hunky guy showed up on my doorstep bearing wine – and he wasn't my husband.
Thanks to Echelon Vineyards and the Clever Girls Collective, I had the opportunity to sample a few bottles of Echelon wine. Let me tell you up front, I wasn't paid to write this review – just offered a few bottles to taste test and then share my honest opinion. I mean, really, twist my arm and all that stuff.
(I couldn't wait to start sampling!)
Honestly? I pretty much like all wine. But, I do have a bit of a wine-snob husband. He worked his way through college while waiting tables at the San Ysidro Ranch and part of his job was checking out wine – and we're talking the good stuff. He's a bit of a snoot and is brutally honest while tasting, so I enlisted him to assist. I decided what better way to really get a full understanding of the flavors than by cooking up a special dinner for each bottle.
Let me tell you.
All kinds of wonderful.
We started out with the 2010 Echelon Vineyards Chardonnay that I paired with grilled garlic and oregano marinated boneless skinless chicken thighs over rice and fresh spinach topped with homemade tzatziki sauce. We had a sip of the Chardonnay before eating and both commented on how light and smooth it was. Neither of us had read the label, but the husband noted instantly the hints of honey, pear, and apple. It went wonderfully with our dinner, and, I'll be honest, there wasn't any wine left once we were finished. Echelon's Chardonnay is a complex but light wine that I would bring to any barbecue.
The next night we cracked open a bottle of the 2010 Echelon Vineyards Red Blend. We both had a bit of hesitation – the idea of a red blend had me concerned (headache in the morning), but we figured we'd have a glass and then (potentially) use the rest for cooking. While putting the finishing touches on our oven-baked vegetarian eggplant parmesan, we sampled a small glass and both couldn't keep sipping. Once again, neither of us had read the label, but commented on the light, fruity flavor of the blend and called out the oaky-ness as well as the smoothness, which didn't leave a dry feeling in the mouth. Once again, there wasn't any wine left at the end of dinner….
A few nights later I made barbecue chicken breasts along with a hot lentil salad with roasted red pepper, radishes, and beets. We couldn't wait to try the 2010 Echelon Vineyards Pinot Grigio because the other bottles had been so good. Let's just say we'd both had a nice, big glass before we even sat down to dinner. It was so cold and fresh and the husband noted the light but super-crisp flavor with the slight fruit undertones.  I simply tasted all kinds of goodness. We both decided this was our favorite bottle of the three – by far. It also went wonderfully with our dinner. This is a perfect summer wine and lovely with anything from grilled meats to big salads
Echelon Vineyards has won its fair share of awards and I can see why. Their wines are easy to drink and not overly anything in any way. And, they are wonderfully priced ($10-$15 per bottle), making them taste even better.
Head on over to Echelon Vineyards for more information about their wines and where you can pick up a bottle. Do it – seriously, do it now. You're entitled to a nice glass of wine!
*Once again, I wasn't paid to write this post – just provided with some really amazingly good wine to sample. I also wasn't asked to write a blog post about the wines, but I did because they were that good.