We're getting ready to go camping and I'm totally terrified. I love camping but am not so sure the tot will. Along with packing tons and tons of crafty goodies, I'm putting together food for us to eat – and share – while at the campsite. They'll be other families around, which will hopefully make our first "family camping" outing successful.
So, what to make to feed a crowd? Ground turkey sloppy joes, of course! But, instead of bringing boring old store-bought buns, I decided to use some of the rosemary growing like crazy in our garden for something tasty.
Garlic rosemary buns.
All you need is a bit of patience to pull these off – and your friends and family will love them with hamburgers, grilled eggplant rounds, veggie burgers, or whatever! Memorial Day weekend is the official start of summer, which means picnics, parties, and cookouts. These garlic rosemary buns are a great way to make anything just a bit better.
Ingredients 
2 1/2 teaspoon yeast (or one small packet)
1 teaspoon sugar
1 1/2 cup warm whole milk (around 110 F)
1 teaspoon chopped garlic
1 tablespoon olive oil
1 1/2 teaspoon chopped fresh rosemary
1 teaspoon salt
1 egg
3 1/2 to 4 cups flour
1 teaspoon olive oil (for drizzling)
Directions
Sprinkle the yeast and sugar in a bowl and then gently cover with the warm milk. Give things a stir and then let the yeast, sugar, and milk do its job. In no time, things will get a bit bubbly.
Add the chopped garlic and olive oil to a small saucepan and bring to a simmer over low heat. This creates a really lovely garlic oil for creating the buns. The minute you see the edges of the garlic starting to brown, turn off the heat and let things cool. That garlic will continue to brown, so, really, take it off the heat the minute you see browning. Burnt garlic is nasty.
Sprinkle the salt and chopped rosemary over the foamy milk and also mix in the egg. Drizzle in your garlic oil and then start stirring in the flour. Once the dough comes together, knead for a few minutes on a flour-dusted work area. Pop your garlic rosemary bun dough in a bowl, drizzle with more olive oil, and cover with a clean towel. Let that dough rise for at least two hours.
Divide the dough into 12 small balls and then roll and pinch to create flat, round circles. Place on a greased sheet pan, drizzle each with a bit more olive oil, cover with that dish towel and let rest for at least another hour.
Yes, yes. This isn't a quick process, but that's how it goes.
Preheat your oven to 400 F and bake your buns for 18 to 20-minutes.
YUM!
Now, while they're baking, you can toss together a super simple Sloppy Joe mix!
Ingredients
1 onion chopped
1 red pepper chopped
1 carrot chopped
2 cloves chopped garlic
1 teaspoon oil
1 teaspoon water
2 pounds ground turkey
1 teaspoon balsamic vinegar
1 teaspoon red wine vinegar
1 teaspoon salt
1 teaspoon sugar
1 teaspoon flour
1/4 teaspoon Italian seasoning
1/4 teaspoon paprika
1 cup of your favorite barbecue sauce
1 14.5 ounce can diced tomatoes
1/2 cup water
Directions
Toss the chopped onion, pepper, and carrot into a large saucepan and then add the oil, 1 teaspoon water, salt, sugar, paprika, and Italian seasoning. Bring the veggies to a simmer and then continue stirring and cooking until they start browning.
Now add the ground turkey and cook until nice and browned.
Sprinkle the flour over the nicely browned turkey and veggies and give a stir. Now add the vinegars, barbecue sauce, canned tomatoes and water and let your yummy sloppy joe mix simmer for a minute or two.
You can leave your mix big and chunky, or add half to a blender and give it a quick whir. This creates that really smooth and happy sloppy joe filling….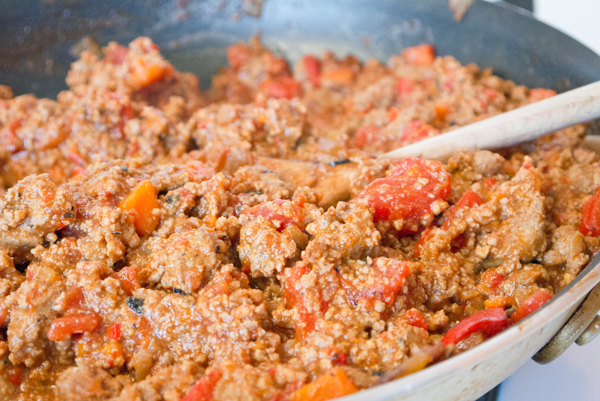 I bagged up my mix – and buns – and popped them into the freezer so everything would be frozen solid for our camping adventure!
Enjoy!