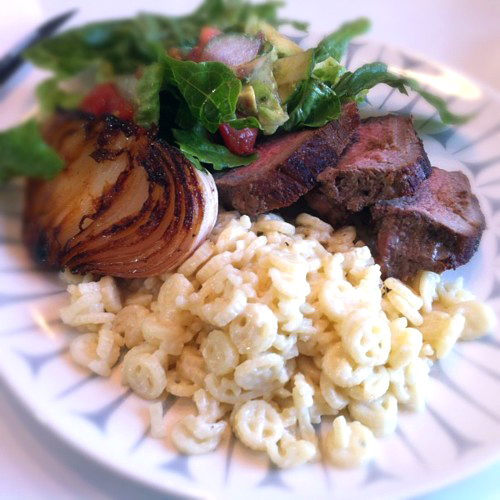 Things have been seriously crazy over here. I had an awesome job interview last week, the tot and I spent lots of wonderful quality time together (now that we stopped going to the preschool), and I made the big decision to have us start eating dinner together every night. What we had done was I fed our daughter dinner around 5 or so. Then, when the hubs arrived home at 6 – 6:30-ish, he'd have one-on-one time with her until bedtime at 7:30. But, by that time, she was out of control, not fun, and my husband wasn't having any sort of quality time with her at all. Then, after we put the tot to bed, I'd cook dinner (and have a drink) and we'd have adult dinner around 8:30.
Exhausting.
Since stopping the preschool (another story for another time) the tot's behavior has been better, but we still seemed to be running into a bit of trouble during the last few hours of her day. And the two dinner thing wasn't working. I decided we'd try eating all together around 6:30. I figured she's old enough to start sitting with us while eating, and we're old enough that we really should be eating much earlier in the evening, so we tried it for the entire week.
Some nights were better than others.
I'll be honest, by the weekend I'd decided I needed a break, so the tot  enjoyed peanut-butter and jelly sandwiches (her new favorite) while I cooked our adult dinners that we enjoyed after she went down for the night.
The highlight? *Creamy yogurt fettuccine! Along with a more enjoyable time together in the evenings, our toddler loves setting out napkin placemats for us, learning more about table manners, and assisting with dinner clean-up!
Eating together as a family has so many benefits, including an opportunity to really chat together about everyone's day, and studies show eating family meals encourage healthy eating habits, better school performance, and positive behavior. I grew up in a family that ate together every night, which was sometimes seriously annoying as a teenager, but it worked. I sulked my way through many a dinner, but deep down I valued that time together with my family. Even after my sister had gone off to college, I sat down to eat with my parents most nights of the week.
On a side note, I had a tragedy over the weekend. My laptop crashed. This was seriously traumatic for me – resulting in a bit of crying and some serious brooding. Wonderfully, it was an $80 fix, but I lost everything on the computer. Everything. I hadn't backed-up my pictures in months, resulting in hundreds and hundreds of lost pictures. Yes, I take a lot of pictures, and, now that I've got the fancy phone, many are on the phone, but I'm still a bit sad over what's not there anymore. I got a seriously wrist slapping from the husband about how I hadn't backed up. All I'm saying is invest in a small hard drive, or get yourself set up with a back-up system, and back your stuff up! This way if your computer decides to take a dive you won't lose your precious stuff.
Seriously.
Do it now.
(It was also my birthday and my husband bought me a cake – and lots of chocolate)
Happy Monday!
*I'll share the recipe for yogurt fettuccine later in the week….