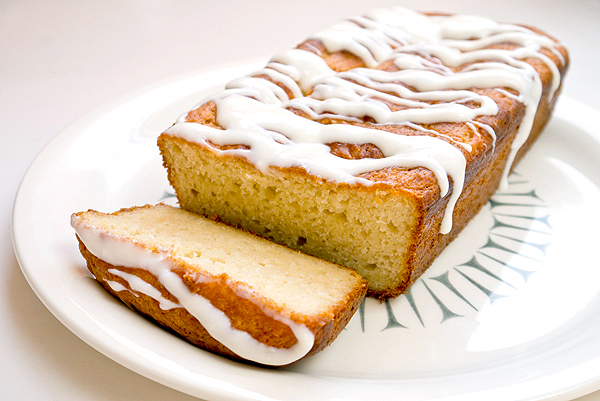 The other day someone asked me if I was more of a baker or a cook. My first reaction was that I'm a cook – but I'm also a baker (kind of). I'm not a patient person, so waiting for something to bake drives me batty. I can't open the oven and stir or baste or season. With baking, you've got to wait, wait, wait a bit more, and then wait. You can't frost cake until it's cool. Let the cookies rest before removing from the pan…
But, I do love making quick breads.
And I love yogurt.
Today the tot and I whipped up a simple yogurt quick bread. It's nice and moist, lovely drizzled with glaze, and perfect for taking to any picnic or gathering. Use a good, thick plain yogurt for a delicious, tangy bread.
Ingredients
1 egg
1 cup plain yogurt
1/4 teaspoon salt
1/4 cup vegetable oil
1/4 cup melted butter
1/4 cup sugar
1 packed tablespoon brown sugar
1 teaspoon vanilla
1/2 teaspoon baking soda
1 teaspoon baking powder
1 1/4 cup flour
1 tablespoon pain yogurt
1 tablespoon powdered sugar
1/4 teaspoon vanilla
Directions
Preheat your oven to 375 F and get out a mixing bowl. Whip together the yogurt, egg, oil, salt, sugars, and melted butter. Sprinkle in the baking soda and baking powder and then slowly add the flour. Once the batter comes together, pour into your greased loaf pan and pop in the hot oven for 45-minutes.
Yes.
It's that easy.
Now the hard part. While the bread is baking your house is going to smell really good. Really, really, really good – and you have to relax and wait. You can whisk together the glaze by smoothing together the yogurt, powdered sugar and vanilla so it's ready when the yogurt quick bread is. After 45-minutes, take out the bread and let cool for at least 20-minutes before drizzling with the glaze.
Enjoy!