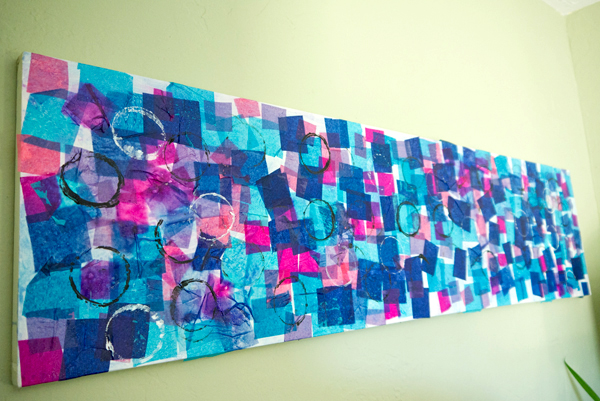 We had this cubby in our bedroom that needed something. I happened to have an unused canvas that needed a little something, too. It was also the perfect day for doing an art activity with my toddler. Mother's Day is all about being a mom, celebrating mom, honoring mamas all around us, making special memories with your kids and remembering memories that you've had with your mom. Making something together that then would be displayed in our home was the perfect thing to do on a lazy Sunday afternoon. And, this is pretty much a no-fail way to create something seriously cool to hang in your house. Even if you're not that crafty you only need a few things, it's okay if things get messy and all smooshed up, and you can use any color combo you'd like. Older kids can get into creating patterns or intricate designs – or you can just go willy-nilly like we did.
Start by cutting lots of squares out of tissue paper. Older kids can be in charge of cutting tons of squares, big or small, and of any color. Once you've got a big pile, mix together equal parts of Mod Podge and water in a small container, get out a few brushes, your canvas (any size), and cover your work area with newspaper.
Now slather the canvas with Mod Podge and start layering on the tissue paper squares. This gets messy – and sticky – but it's lots of fun. Your kids can watch as the tissue paper squares blend together and create new colors.
Once the entire canvas is covered, let the tissue paper and Mod Podge dry. What's great is the Mod Podge gives things a nice gloss, creating a really finished feeling.
We decided on accenting our tissue squares with circles, but you can use any shape you'd like. Squirt a few drops of acrylic paint onto a paper towel to create a stamp pad. We found that paper cups created the perfect circle stamps and placed lots of black and white circles all around the canvas.
The finished toddler fine art fit our empty spot perfectly!
And I had a wonderful time spending Mother's Day with my tot.
(lovely)