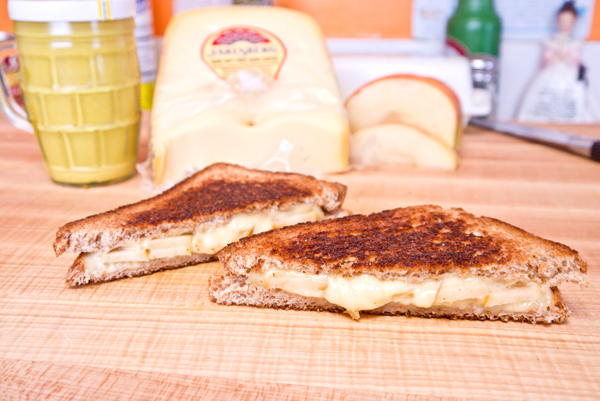 For the last couple of days the tot and I have enjoyed some time off from the preschool. It's spring break, which means doing lots of messy projects at home, cuddling with an afternoon movie, and making tasty stuff.
Honestly?
I'm kind of in love with spring break right now.
Today I decided we would have a lunch date. Instead of feeding the tot her regular side of apple sauce with a plain cheese sandwich – and making something for myself later while she napped, I mixed it up a bit by making a sandwich both of us would love.
Grilled cheese and apple sandwiches.
Yeah, this is a kid-friendly sandwich, but it's also a wonderfully tasty and fulfilling adult light-lunch option. Enjoy with a small cup of soup or side salad and you've got an awesome lunch. Just go a bit lighter on the mustard for the kiddies.
What you need to make one sandwich…
2 slices of whole-wheat bread
Room temperature butter
Dijon mustard
2 thick slices of Jarlsburg (Swiss) cheese
1/4 a Gala apple thinly sliced (you can leave the skin on)
What you do…
Start by giving one side of a piece of whole-wheat bread a light coating of butter. Place that slice, butter side down, in a pan over medium-to-low heat.
Cover that slice of bread with one of the slices of Jarlsburg. Good Jarlsburg cheese is nutty and ooey-gooey, which blends wonderfully with the sweet Gala apples, and tang of the mustard.
Thinly slice one-forth of the apple, avoiding the core, and layer six to eight slices on top of the cheese.
Top the apples with the second slice of cheese.
Give the second piece of whole-wheat bread a nice coating of good Dijon mustard, place on top of the sandwich, and lightly coat the outside of the slice of bread with butter.
By now the sandwich is probably ready for a flip – do so gently with a spatula to ensure the whole pile of goodness doesn't fall apart.
Let the grilled cheese and apple sandwich toast until the cheese is gooey – about 3 to 4-minutes on each side.
You know that melty-cheesy-oh-so-good thing?
Yeah.
Enjoy!