I'm tired of the rain. I really can't complain – for the majority of our "winter" it was in the mid 60's and sunny, so this late rainy winter season is lame (but really good for all the plants and stuff). I've been busy making soups and stews and casseroles, but not much just for the tot. She's pretty obsessed with peanut butter and jelly sandwiches at the moment. We're restricted from taking anything nutty to preschool, making her indulgences strictly limited to around the house.
I'd love to teach her how to open the fridge, get out the bread, peanut butter, jelly, a knife, and slather the stuff all over the bread because I'm tired of making piles and piles of the sticky sandwiches. Her face gets covered, jelly ends up on the furniture, ants start gathering…
Yeah, yeah. I know. I'm being a bit of a peanut-butter-and-jelly-Debbie-downer.
Oh well.
So, while the rain was doing this outside for the third day in a row,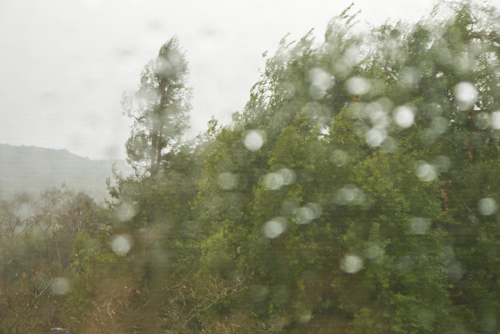 I came up with a fun way of making that laborious task of tossing together those countless sandwiches into a quick and easy concoction.
Peanut butter and jelly quick bread.
This is a super easy bread to whip up, and if you aren't feeling like dealing with cleaning the loaf pan, fill your muffin tin with liners and make mini-breads. I know you have all the ingredients (nothing crazy here) and the kids can even offer a helping hand – or make this easy recipe themselves. Just make sure to wash hands after handling raw eggs, not to lick the spoon (or bowl) clean, and offer assistance around that hot oven!
Ingredients
1 egg
2 tablespoons vegetable oil
1/4 c plain yogurt (vanilla would be yummy, too)
1/2 c water
1/4 c sugar
Dash salt
1 teaspoon baking powder
1/4 teaspoon baking soda
1 1/4 c flour
1/4 c peanut butter
1/4 c jelly (any kind is tasty)
Simply whip together the egg, yogurt, water, sugar, and salt in a medium-sized mixing bowl. Go ahead and crank your oven to 350 F while you're happily mixing away.
Slowly add the flour along with the baking soda and baking powder. Once the batter comes together, take a moment to prepare your loaf pan by giving it a nice slathering of vegetable oil, or a spray of no-stick whatever, or line your muffin tin.
Now measure and add the peanut butter as well as the jelly. Carefully stir (or fold) the peanut butter and jelly into the batter. You want big swirls of the stuff not for the peanut butter and jelly to become completely incorporated.
Gently pour the peanut butter and jelly quick bread batter into your prepared pan and toss into your hot oven for 50 to 60-minutes. Let your bread rest for at least 20-minutes before slicing (if you can wait that long). If you slice into it too soon, you will tempt the happy Quick Bread Gods of Fate and things may crumble to pieces (which is still tasty, but very messy).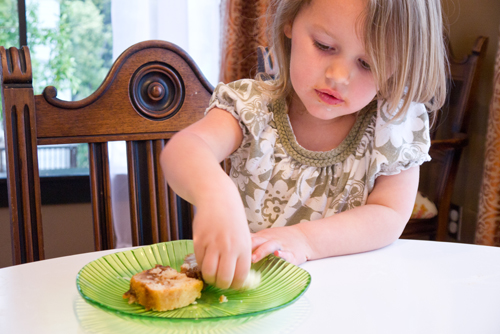 Enjoy!