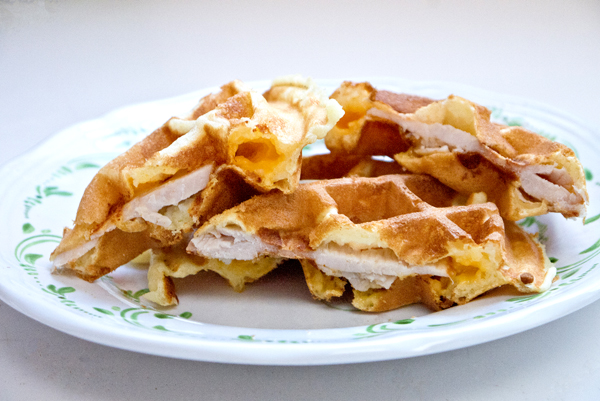 It's been raining all week. Due to that rain, I've been a bit mopey. Well, there have been other things that have contributed, like our tax bill coming out to be twice as much as estimated (GULP! Pasta and ground turkey for the next 6-months at our house), the tot tossing lots of tantrums (yeah, really – throwing and screaming), and stuff like the roof leaking (again) and having to take care of funky plumbing issues.
Usually I turn to food to comfort my soul and fix things up right, but I wasn't even in the mood for baking, or cooking something new, or eating.
Bah.
After the initial shock of our tax bill started to wear off (well, not really), and the fifth full day of rain pounded upon us, I picked myself up and did a bit of cleaning, which amazingly actually helped. While dusting and organizing the tot's toys, I had an idea for a total comfort lunch both the tot and I would love.
Turkey cheese waffles.
Here's the deal. These are super messy, but really tasty. You're going to have cheese everywhere, and probably some waffle batter, too. It really doesn't matter because these turkey cheese waffles are the perfect combo of savory and sweet – and your whole family will love them no matter the time of day. Making your own waffle batter allows you to add more vanilla or less sugar – however you like it. And, you really only need a few ingredients.
What you need
1 3/4 cup flour
2 tablespoon sugar
1 tablespoon baking powder
2 eggs
1 3/4 cup milk
1/4 cup vegetable oil (or melted butter)
1/4 teaspoon vanilla
Dash of salt
Sliced turkey (I used thick cut)
Sliced cheddar cheese (or pre-cut slices of that really melty orange cheese – you know what I'm talking about)
What you do
Whip up your waffle batter by whisking together the milk, eggs, sugar, oil, and vanilla. If you want things to be a bit sweeter, you can add another tablespoon of sugar, or a teaspoon of honey or maple syrup. And, you can skip the vanilla, or just add a splash, if it's not your thing. If you want really crispy-crunchy waffles, use melted butter instead of the oil.
Sprinkle the baking soda and salt over the batter and then slowly add the flour, stirring as you go. Once the batter comes together, let it rest for a minute or so.
Preheat your waffle maker and get out your sliced turkey and cheese. It just so happened we had a few slices of that totally oozy-gooey creamy orange cheese, which really melted amazingly. Or thinly slice some cheddar and you're good to go. You'll need about 1 slice of turkey and cheese for each waffle, and the batter makes enough for 6 good ones.
When your waffle maker is hot pour in about 1/4 cup of the batter, top with a slice of turkey and cheese, and then drizzle another 1/4 cup of the batter over the top. And, you might find 1/4 cup is too much, or too little, for your maker (especially if your batter starts oozing out), so the first waffle might be a bit of an experiment. Slowly close the top and continue to cook according to your waffle maker's waffle making deal. Ours "dings" when it's done….
Keep making waffles until there's no more waffles to make. Yes, you're going to make a mess, but, really, SO good.
*The tot and I ate several for lunch and the husband ate the leftovers when he got home. He then asked when I would be making them again.