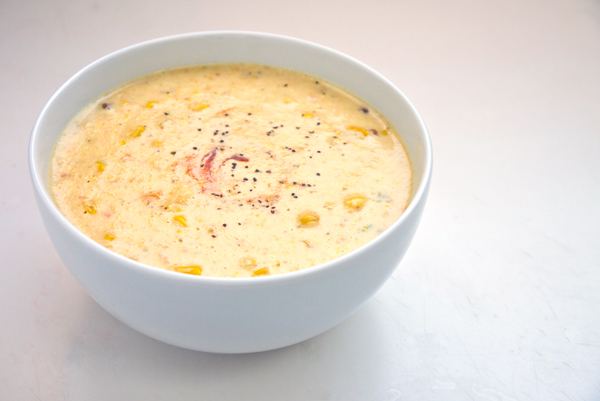 I've been really into soup lately. It's all soothing and nourishing, and super healthy for you when you make it yourself (unless it's cream based, of course). One of my favorites is roasted corn chowder. It's full of natural flavor as well as being beautifully creamy – and still healthy! The trick to this soup is roasting the veggies until they are nice and toasty, which creates an amazing base flavor.
This soup is made with just a few ingredients and a couple of steps. Don't freak out, but part of the deal is making a roux. Sure, that's a fancy schmancy French thing, but it's easier than you think. I'm including step by step pictures in the directions to help you along the way. Yes, that means there is whole milk and butter in this soup (which doesn't sound all that healthy) but once all those veggies are added in, plus some other stuff, you've still got one fit as a fiddle soup that's ready to eat in 30-minutes.
What you need
1 lb frozen corn
1 small onion chopped
2 celery stalks cleaned and chopped
1 carrot chopped
1 teaspoon vegetable oil
1 teaspoon water
Dash of salt and pepper
2 cloves garlic chopped
1 tablespoon butter
1 tablespoon vegetable oil
1/4 teaspoon salt
2 tablespoons flour
3 cups whole milk
Additional salt and pepper
Hot sauce
How to make the goodness
Start by cranking your oven to 425 F and then chopping up the carrot, celery, and onion, and tossing them onto a big sheet pan along with the corn. Drizzle with the teaspoon of veg oil and water and liberally sprinkle with salt and pepper, and then pop into that hot oven for about 20-minutes. You can check on them in a bit.
Okay, now it's time to start that roux. Toss together the salt, tablespoon of butter and oil into a nice soup pot. Warm over medium-high heat until things are all melty and then add the chopped garlic and flour. Give things a little stir….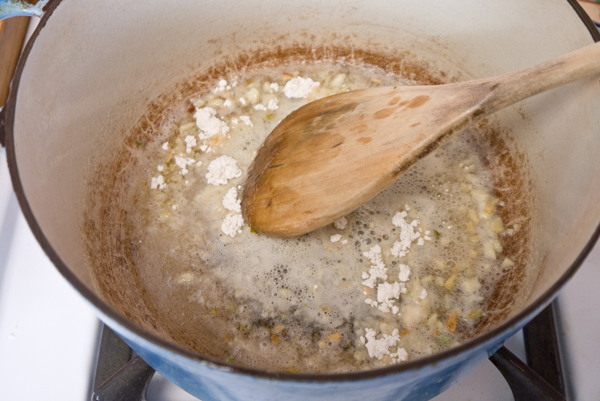 Now let the flour, butter, and oil simmer together for about 2-minutes or so. Give things a stir – you don't want this to start browning, just bubble a bit.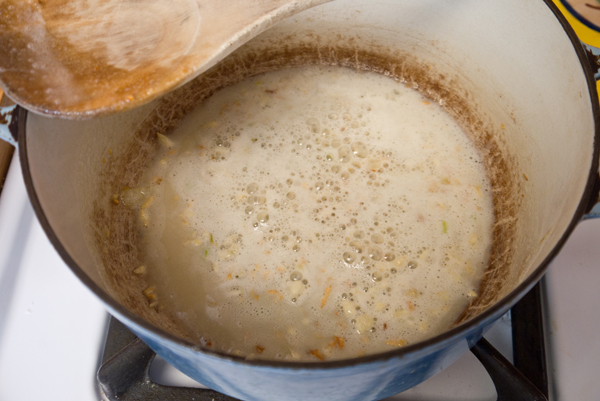 Go ahead and measure and add the milk and give the mixture a stir. Turn the heat down to medium and keep an eye on things. This the perfect time to check your veggies and give them a big stir.
A roux is a way to thicken a soup and right now things aren't looking that way. The thing is, the milk needs to get nice and hot to work together properly with the butter and flour. But you don't want things to start boiling, which might ruin your roux. Just keep an eye on things while stirring and, before you know it, you'll notice that the liquid will start thickening up…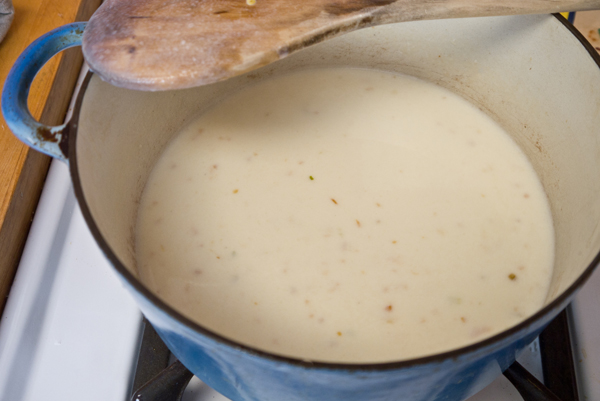 Once the roux pulls together, you can turn the heat way down to low – or even off – and pay attention to those veggies. If they've started to brown on the edges, you are ready to go. Pull them out and measure and reserve 1-cup of the veggies. The rest can go into your hot pot of happy milk.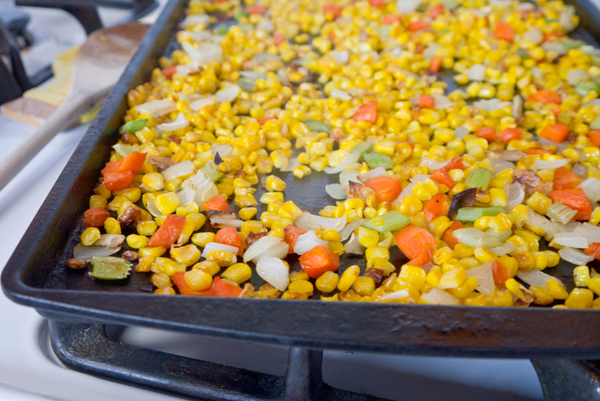 Get out your boat motor (a.k.a hand mixer) and blend together the veggies and milk – otherwise you can puree in batches in your blender, and then add back to your soup pot. Give your soup a taste test and add additional salt to pepper as needed. Hey, if you like things spicy, dash in some hot sauce or sprinkle in some red pepper flakes.
Now mix in the cup of reserved veggies, add 1-cup of water, and bring the soup back to a low simmer over medium heat. Once things are hot and bubbly, ladle up a bowl and enjoy.