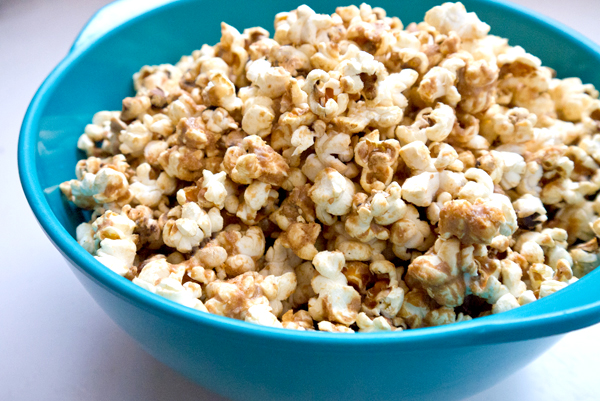 When I found out this morning that it was National Popcorn Day, everything changed. I love popcorn and it's turned into my new super-healthy and crunchy snack sans butter but with a sprinkling of salt and a dusting of sugar. It hits the spot and is also pretty low on the calorie front. But, Thursdays are preschool days, so we headed out and my popcorn plans were put on hold until our return home.
After getting home and finishing a conference call, I got to work. I had been craving peanut butter all day, so munched down a sandwich while planning my popcorn making – and then it happened.
Why not make peanut butter popcorn?
It would either be deathly addictive or super horrid – or maybe a bit of both making it wonderfully delicious. I got to popping some popcorn and making the creaming peanut butter sauce.
Um.
Wonderfully delicious.
And this tasty and healthy snack is really easy to make and perfect for a mid-day treat or while watching late night movies – or for game day! I thought I was the original creator of this amazing concoction, but discovered there are a couple of other phenomenally smart people that came up with the combination also. This is my original recipe, but feel free to check out others and adjust as you'd like. My recipe is a bit on the healthy side, ensuring you won't feel horrid about snarfing down the whole bowl.
Ingredients
4-6 cups fresh popped plain popcorn (1 c dry kernels popped results in about that much)
1/4 c creamy peanut butter
1 tsp honey
1 tsp brown sugar
1 tsp water
1 tbsp butter
Salt
What you do
Pop up your popcorn. If you're using a microwave kind, select a plain style free of butter or salt. I popped up my own in a big stockpot using 1c dry kernels and a drizzle of vegetable oil.
While things are popping away, melt the butter, honey, brown sugar, and water in a small saucepan – or toss it in the microwave when your popcorn is finished. Once things are all bubbly, smooth in the peanut butter and warm until everything is all gooey.
Dump that popcorn in a big bowl and then drizzle the peanut butter sauce over the popcorn. Use a big spoon to toss the popcorn with the peanut butter mixture until everything is coated. I left my freshly popped popcorn in the stockpot, dumped in the sauce, and then held the lid in place while shaking that popcorn like crazy.
That popcorn is HOT so let it cool in your bowl before shoving a big hand full in your mouth. Give things a good dash or two of salt and then snack away!
*You know what else would make this amazing? A dash of cinnamon, or even a dash of paprika! Have fun 🙂