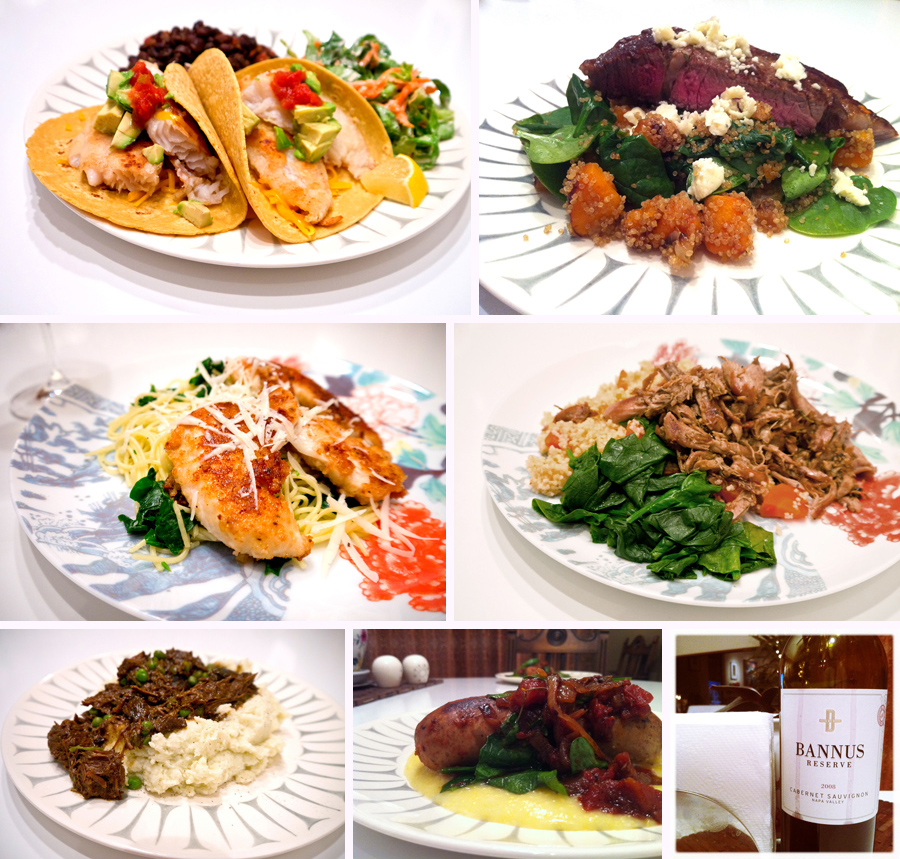 This week was all about cutting back on pasta, pasta, pasta, pasta, and potatoes. I've gotten into a bit of a rut lately and giving myself the challenge of finding other fun sides was really exciting this week. I experimented with quinoa, mashed cauliflower, and did make one night of light pasta with olive oil, fresh pepper, and lots and lots of garlic. Sure, I didn't eliminate carbohydrates altogether, but it's a start, right?
We also worked on watching our portions and not heading back for seconds. I often make extra so the tot and I have something for lunch the next day (or for double-duty another night as dinner), so before serving I popped leftovers in the fridge making them  unappealing for more munching.
There were a few winners – and a couple of losers. The yogurt marinated rice crispy coated chicken tenders were really tasty – as well as the hot roasted butternut squash quinoa salad. I really wanted the mashed cauliflower to be phenomenal, but the hubs and I both agreed the texture was spot on, but the flavor a bit cabbage-y.
What did you make for dinner this week? Leave a comment with a recipe or link!
I'll be sharing our favorite recipe of the week tomorrow….
*top left – basa fish tacos, top right – hot roasted butternut squash salad with half a rib-eye, middle left – yogurt marinated rice crispy coated chicken tenders with garlic spinach pasta, middle left – pulled turkey thighs over carrot couscous, bottom left – chuck roast with peas over mashed cauliflower, middle bottom – chicken/turkey sausage with caramelized onions over polenta, right bottom – the wine of the week: Bannus