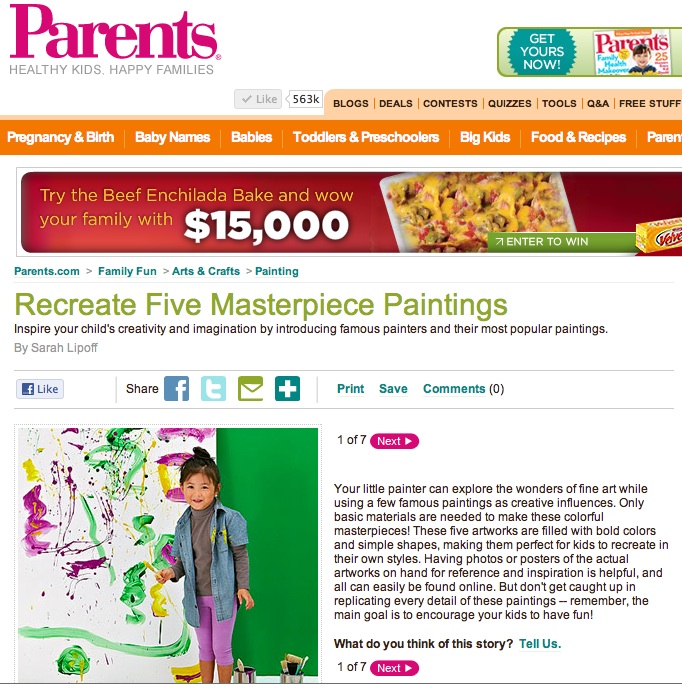 I'm so excited to share that Parents.com picked up some of my fine art for kids activities! This was a really exciting project for me – and something that is really near and dear. With my background as an art teacher, creating, and getting creative, with kids is something really important to me and one of my big goals is to share that with others. Sure, sometimes my projects are a bit out there or might take you out of your comfort zone (like getting over your fear of glitter). But, hey, that's what art is all about.
Even if you don't think you are "crafty" you might find exploring art – and getting messy – with your kids is really fun. The first thing is to realize just making the effort to attempt creativity is the most exciting and important step. Embrace that fear of finger painting with a two-year-old, offer markers to your toddler, and wield that hot glue gun with no fear! Your kids won't have a clue you're shaking in your boots worrying your rug will be speckled with red paint or one of those markers might wander off…
They'll just remember having a great time while making art with you.
Head on over to Parents.com to see what we put together – I know you'll find something you and your kids will love creating!
Before getting started, here are a couple of tips for making arts and crafts time a happy time:
–Determine your boundaries: Pick an art corner in your house and make it clear that area is where mess can be made. Finding a spot near a sink is beneficial for those really crazy moments – or if things go a bit haywire. If your home is carpeted, invest in a cheapy carpet to put under your craft table to protect your floors. Heck, if you've got hardwood floors, it's also a good idea! I've picked up several rugs from the local re-sale shop that have had wonderful lives as craft rugs. Kids go through different stages of art development, and some can be a bit messier than others.
–Prepare: Before starting a project, prep your materials just like you do before making a meal. Have your paper and art materials out and within reach so they can be offered, and removed, while creating with your child. I've got a toddler and find this is a serious part of doing fun and messy projects. As soon as she is finished with the paintbrushes, I whisk them away and offer her something else. This ensures those forgotten brushes don't get rediscovered and end up being used to paint the drapes. Once the project is finished, have a spot for the artwork to dry or rest out of reach.
–Enjoy: Sure, I know you're going to want to take a couple of pictures of all the fun you're having while getting creative, but put the camera/phone down and give your child some undivided attention. Art is important and this is a great learning opportunity and chance to really chat with your child. Quiz her on colors she's using, shapes she's making, how her day went, her hopes and dreams….
We all get caught up with stuff around us (SOCIAL MEDIA), but quality time with your child is so important.
–Share: Once your art project is finished, proudly display it in your home. Not only is kid art cool art, it also shows your child how much you value her creation, boosting her self-confidence. Art is an essential part of emotional development and when your child feels she can safety and comfortably express herself through her art, she'll feel better about herself, boosting her self-esteem, and aiding in her cognitive and creative development.
So what are you waiting for? Head on over to Parents.com with your child and pick a masterpiece to recreate!