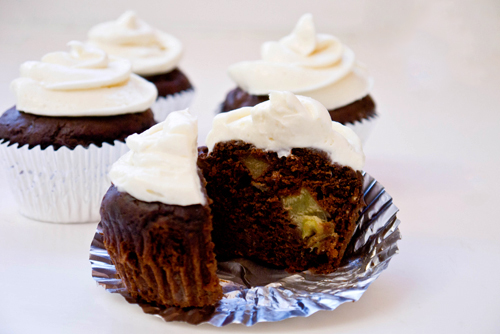 It's been a bit of a whirlwind over here. We delayed Christmas until my parents arrived late last week, the husband and I went out on a pre-New Year's date, and now it's the tot's birthday.
I'm about ready to crawl into a quiet corner and hibernate.
When deciding what to do for our big tot on her b-day, I wanted to keep things pretty tame, you know, because we've been opening presents for what seems like days and days and days.
I figured we'd make a special meal – and a special treat. She's in love with chocolate and bananas, so I combined the two into something really tasty.
Choco-nana cupcakes.
These are really simple and actually not so bad for you – especially if you eat them just as is without the additional frosting. There's less sugar in them and no butter, but you'd never know. Using a really big and not-yet-brown banana creates big happy chunks of nanners in every bite.
What you need
3/4 c unsweetened Dutch process cocoa
1/2 c sugar
1 1/4 c flour
2 t baking powder
1/4 t baking soda
Dash of cinnamon
Dash of salt
1 t vanilla
1 tbsp honey
1/4 c vegetable oil
2 eggs
1 c milk
1 c big chunks of chopped banana
How to make them
Start by cranking your oven to 350 F and then get out a muffin tin. You can line with little liners or lightly grease with a wiping of oil. Now you can begin dumping all the dry ingredients in a big mixing bowl (cocoa, flour, baking soda and powder, cinnamon, sugar, salt) and give things a good stir.
Measure and add the milk, honey, vanilla, and oil and lightly mix. Go ahead and toss in those two eggs too.
Chop up a big banana and add it to the mix. If you've got smaller bananas, you might need two. Seriously – it's that simple.
Gently stir things up and then spoon into muffin tins. You should have enough batter to make 12 good-sized muffins.
Toss those choco-nana muffins in the oven for 17-20 minutes or until the tops are cracked and firm to the touch.
Once things are cool, top with yogurt cream cheese frosting or a dusting of powdered sugar – or eat plain!
YUM
*Yogurt cream cheese frosting
4 ounces room temperature cream cheese
1/3 c plain (or vanilla) yogurt (strained for an hour)
1/2 c powdered sugar
1 t vanilla
After you toss your cupcakes into the oven, line a strainer with a sheet of paper towel and then plop on your yogurt. Let it strain for an hour or so – or longer if you feel like it. Then gently press the yogurt to release as much liquid as possible.
Whip the yogurt with the room temperature cream cheese, vanilla, and powdered sugar using a hand mixer and spoon into a heavy duty zip top plastic bag and smoosh to one corner.
Snip the corner of the plastic bag with a scissors and then squeeze the frosting out in swirls onto those nicely cooled choco-nana cupcakes.