Thanksgiving is right around the corner and I am really excited to be heading to the homeland to hang with the family and do some cooking. The turkey basically remains the same year after year, so I wanted to mix things up as far as the sides go. When I got the chance to check out Marzetti Simply Dressed Salad Dressings, I knew the blue cheese would be perfect for something I'd been dreaming about….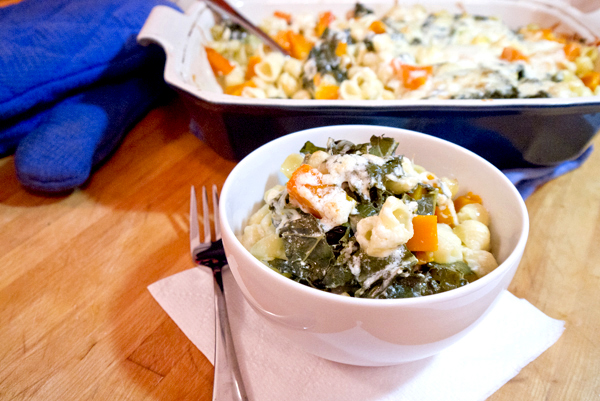 Butternut squash kale blue cheese bake.
Yeah.
SO good.
What's perfect about this recipe is that it's super easy and you can even bake it up the night before and then take it to a festive pot luck or  have it ready for a quick dinner. I pre-make all my Thanksgiving sides so they can heat back up once the mongo turkey comes out of the oven.
Ingredients
2 lbs butternut squash cubed
2 c chopped kale
2 c dry sea shells pasta cooked
1 clove garlic chopped
3/4 c blue cheese Marzetti Simply Dressed Blue Cheese dressing
1 tablespoon sour cream
3/4 c vegetable stock
1/2 c shredded Monterey Jack Cheese
1/4 c additional Marzetti Simply Dressed Blue Cheese dressing
9 x 13-inch casserole baking dish
How to make it…
Boil up some water in a big stock pot and add the pasta. If you don't have small shells, any kind of pasta would work wonderfully.
While your pasta is simmering away, slice your butternut squash in half, scoop out the seeds, and then peel away the skin. Now you can chop that squash into 1-inch chunks and toss into your casserole dish.
Take out your kale (don't be afraid, kale is tasty and really healthy!), give it a good rinse, and then dice into a rough chop. You can remove any parts of the stem from the kale and then toss into the casserole with the squash. Chop up that garlic and toss it in, too.
Check on your pasta, it's probably just about perfect! Give it a drain and then toss in with the squash and kale.
Go ahead and preheat your oven to 375F and get out the Marzetti Simply Dressed Blue Cheese salad dressing, sour cream, and vegetable stock. Measure and mix them together and then pour all over the pasta. Cover with tinfoil and toss in the oven for about 30 minutes.
After 30 minutes, take out your dreamy casserole and poke a piece of squash with a fork. If it's tender, you're good to go. Shred up your jack cheese and sprinkle over the top along with dotting with the additional Marzetti dressing. Pop things back in the oven until the top is bubbly brown – about 10 more minutes.
Serve alongside chicken or whatever – or just enjoy on its own!
Happy Holidays!
*I was one of the bloggers selected by T. Marzetti Company and Clever Girls Collective to host a Marzetti Simply Dressed review. They provided me with product to test myself and compensation for my time. However, my opinions are entirely my own.